Miss International, Ikumi Yoshimatsu, who famously came forward recently about the remarkable stalking she suffered at the hands of Japan's entertainment world movers and shakers, has now gone one step further.
Not content with just exposing the bullying tactics of the Japanese entertainment industry, treating women as fodder to be churned through the assembly belt of the geinoukai, she has now launched a petition to take her cause onto the political platform.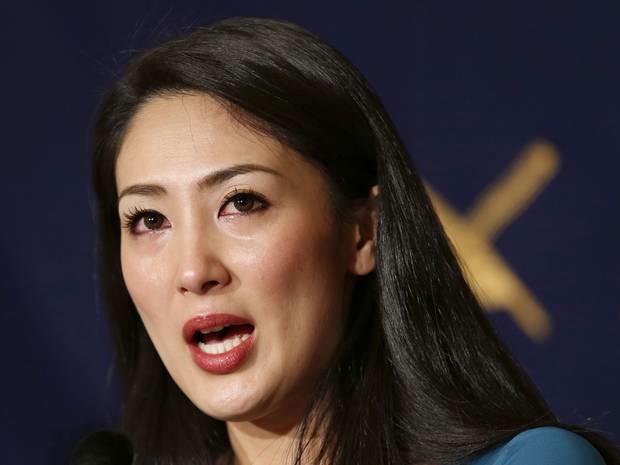 Stalker Zero is her online petition and you can sign it now. (Japanese page here)
In it, she addresses Prime Minister Shinzo Abe directly:
As you know, I am the first Japanese woman to be crowned Miss International in the 52-year long history of the pageant. Since winning my crown in October 2012, I have been the victim of stalking, intimidation, threats, extortion and blackmail by a powerful Japanese talent agency executive known to have ties to organized crime.

This man tried to abduct me from a TV studio, made threatening calls to my family, and hired private investigators to stalk me, peep into my windows and photograph my home.

The Japanese organizers of the Miss International 2013 world grand prix even asked me to "Play Sick" and "Keep Quiet" in order to appease my stalker after he made threatening phone calls to their sponsors. Because of this, I became the first Miss International titleholder in the 52-year history of the pageant prevented from passing my crown to my successor. I fear for my life and require 24hr security.

I went to the police with more than 30 exhibits of evidence including recordings and photographs. As is typically the case in Japan, the police did nothing more than offer to increase patrols in my area. They did nothing to assure my safely or to punish my stalker.
Japan's entertainment industry has many open secrets, not least its connections with organized crime. It also has a stranglehold over the mainstream media, commanding a near monopoly of how its stars are treated and presented.
Being a model or entertainer in Japan is not what it's cracked up to be. They are salaried and their private lives are harshly controlled.
When Yoshimatsu went public with the stalking she had suffered, no major Japanese media outlet covered what should have been a sensational story.
But clearly Japanese people care; her blog has been read by millions.
Some may discard Ms. Yoshimatsu's campaign as the wining of a pretty girl who should have known what a cut-throat industry she was getting herself into. Yes, modeling and entertainment are not for the thin-skinned. But Japan's problems with its entertainment industry are emblematic of many of the dilemmas affecting citizens across all walks of life, in companies, schools and more. It is an archetypal example of the misogyny in Japan that means rapists get lenient punishments and Japan's gender equality ranking is among the lowest for industrialized nations, 105 out of 136 countries!
By signing her petition and lending her your support, this beauty queen might just make one hell of a difference.