There may (or may not) be a storm brewing about airline ANA's latest TV ad.
It shows two pilots at an airport, gazing out at the tarmac at Haneda Airport and waxing lyrical about the newly expanded international routes.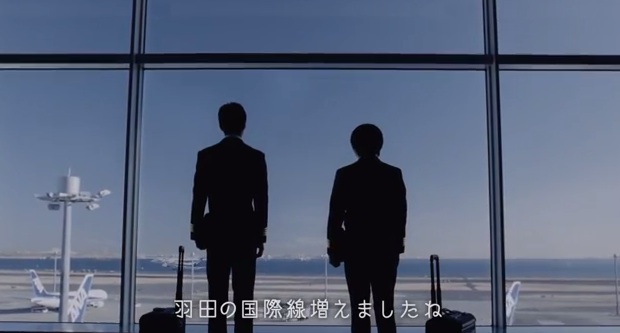 They tell each other (in English) which global destination they are about to head off to and one then asks the other if he wants to "hug" to say goodbye. His friend turns him down, only to be castigated as having made a too "Japanese" reaction.
"Let's change the image of Japanese people," he suggests.
Then he turns back to see his friend now transformed into a "foreigner", that is, with a fake nose attached and a blond wig.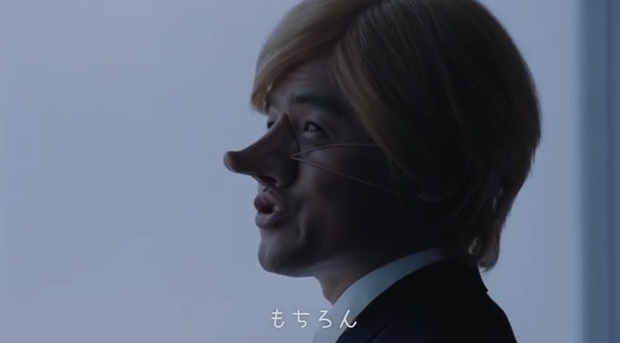 So apparently ANA thinks that a few more international flights departing from Haneda is going to change the Japanese to look foreign?
Well, we reckon it's a bit more ironic than that. If the ANA staff all start to speak perfect English even to each other, then we would be more impressed at that then any new facial features.
We've seen this kind of anachronism in mainstream advertising before, such as last year's poorly done campaign by Toshiba, for example.
This time it seems more tongue-in-cheek and we didn't take offense at any rate. Debito, though, was less than impressed.
Putting on fake noses used to be a standard way to play a "foreigner". It's a bit like the past practice of "blacking up" if you were meant to play a "non-white" role, though likely less offensive and based on the rather peculiar notion that all white people have large snouts.
Anyway, if you've got any complaints, don't blame ANA. Blame Dentsu.
Update: Not surprisingly, ANA pulled the video from the official YouTube channel.