Last weekend I jumped on the Fukutoshin Line and headed down to Shibuya to check out Keitai Mizu ("mobile water").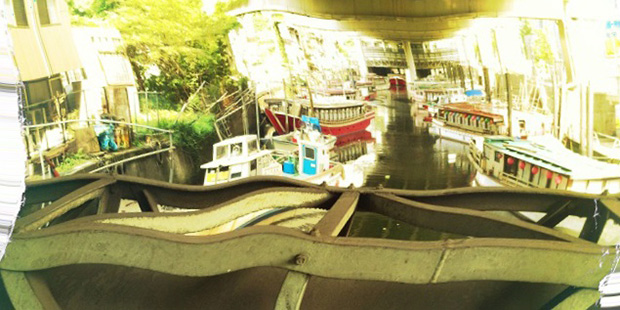 From what I had read, the event at Jingu-dori Park was set to be a mobile game, a treasure hunt for art. Players were given fifteen minutes to go through the parkette, search for artist-rendered sea creatures native to Tokyo, snap photos and send them to the Spatial Dialogues Twitter account via Instagram.

When I arrived at the park, I got much more than that. I was lucky enough to get a tour through the entire installation by Larissa Hjorth, one of the coordinators of the event.

The art and the park were put together in a meeting of worlds, of sorts. When you walk by Jingu-dori Park, it's easy to spot the little bits of rubbish scattered amongst the shrubbery. The participating artists, such as Simon Perry and Kristen Sharp, used found objects to make their underwater animal creations, giving the hunt a real trash-to-treasure feel.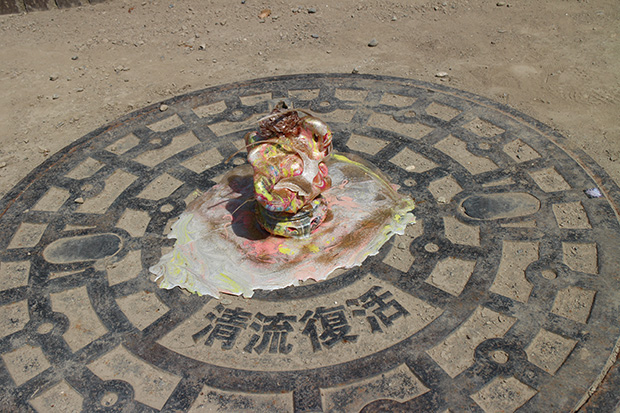 You might be wondering, though, what's with the sea creatures? Why all the water? Not only did I receive a tour, but also a bit of a history lesson.
Did you know that once upon a time, a river ran right through the middle of Shibuya? It was a channel of natural beauty flowing through the city. Economic power and developmental change brought pavement. The river was forced underground and out of our minds.
I feel lucky to have met the creative team behind such a conceptually interesting event like Keitai Mizu. Throughout the rest of June you can check out other Shibuya: Underground Streams events happening in Tokyo.