Why be boring in the kitchen?
There's a wealth of fun stationery around — from evolutionary ape erasers to topographical contour notepads — so there's no reason that kitchen utensils should be relegated to the purely functional.
The Nejicco borrows the idea of a pencil sharpener and adapts it for peeling or slicing vegetables.
There are three color-coded types in this set. Each slices or peels in a different way, so you can then create slices in all kinds of thicknesses and shapes with radishes, carrots and other veggies.
The makers are marketing it as a super convenient kitchen tool, but we reckon, given the colorful design and how it makes salads and cooking creative, this will be popular with families where kids like to get involved in the kitchen. (The pencil sharpeners are totally safe.)
The Nejicco also stack on top of each other in a mini tower so they can be kept out of the way on a counter, rather than cluttering up drawers that are already packed with utensils you've used once and never since.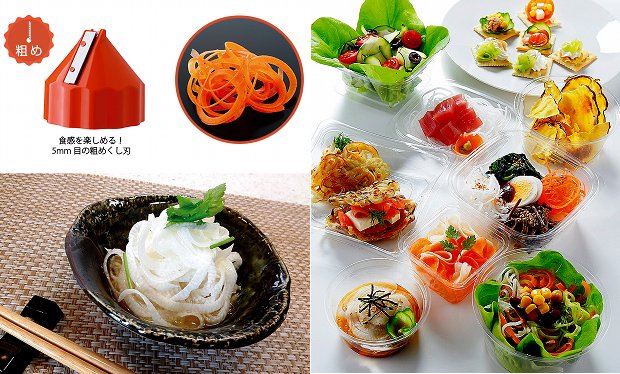 This is a nice video illustrating the different things you can do with the three "pencil sharpeners".
It also reminds us of the heart-shaped and star-shaped cucumber molds that proved a sleeper hit a few years back, though in that case you actually grow your salads into the unique shapes you want them to be served as.