As clichéd as it might sound, in everyday life we really do take too many things for granted. The virtual world of the Internet makes it seem as though everything can be done instantly at no cost. Take music, for example. I remember that I used to make a call to a nearby record store weeks before the release date of a new album of my favorite singers or bands just to make sure that I could get a copy of my own that day. I believed that the value of the album was worth more than the 3,000 yen I spent on it, and I listened to every single one of the songs repeatedly until I had memorized all the lyrics.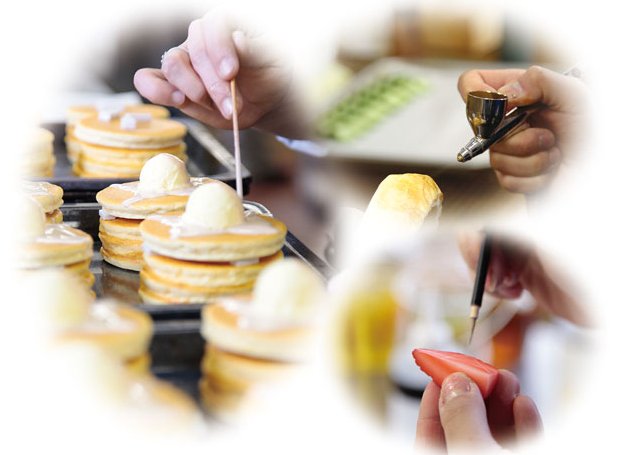 Now, music or just any form of intangible entertainment which used to be sold in tangible CD cases or DVD packages as the only access point available for consumers has become an easily shareable link on the Internet at the click of a mouse. Whether or not it has degraded the value of entertainment itself is up for debate, yet there is really no way to stop this movement in the years to come.
What can't be turned into a link on streaming sites online, though, is a product that calls for more perceptual experience, especially that of taste, smell and touch.
With over 80 years of experience in making fake food samples, Iwasaki Co., Ltd. has successfully turned the "fakeness" of their products into an art form which now has an established brand of its own. Such food samples are displayed in the windows or outside restaurants and eateries to show potential patrons what dishes are available on the menu. Although less common than they used to be, the plastic food models are still frequent sights at certain kinds of restaurants in Japan.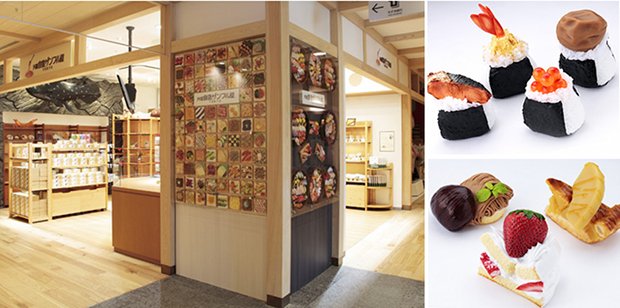 In 2011, Iwasaki launched their first retail shop of fake food samples called Ganso Shokuhin Sampuru-ya (Original Food Samples Shop) in Kappabashi, Tokyo, and the following year opened the second branch in Solamachi, the shopping complex at the base of the Tokyo Skytree.
On the website they encourage people to take their time when visiting the shops and to touch the actual products themselves. Every product is different because they are all handmade. Take it in your hand and choose the one you like the best.

Their marketing strategy goes against the norms of this increasingly digitalized business world, yet that's exactly where the company's pride lies.
In 1932, Takizo Iwasaki, the founder of the company, made his first product, an omelet which, according to his wife, already seemed to exceed the quality of just being a resemblance — she almost couldn't tell the difference at all. The company vision stems from his belief in the possibility of what initially started as a fake sample dish. Their pride is represented in the "fake" which cannot be appreciated on computer screens. If it can, they have failed to serve the purpose of making fake food that looks real — so real that one can only tell the difference by its touch.
In fact, it's hard to find any field of business where the imitation is valued (at least financially) more than the original. Would you be surprised that the dome of hamburgers and French fries below is priced at 189,000 yen — nearly $2,000?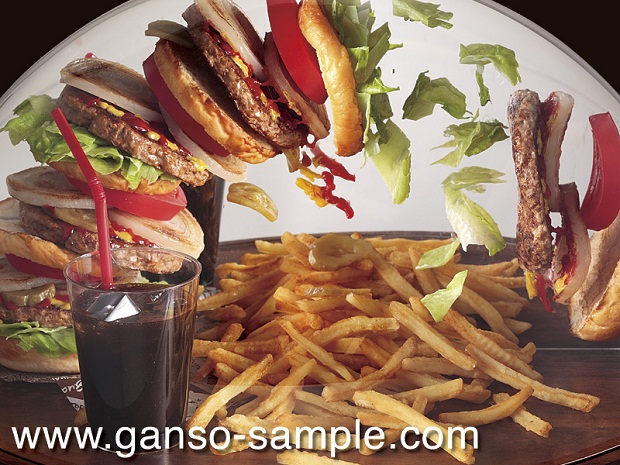 Again, the fakeness of work is key to their business. Perhaps no one would argue against me if I stated that anyone who sells a hamburger, let's say, for 1,000 yen would go out of business before they even got a chance to experiment or challenge the current fast-food market. (McDonald's recently announced high-class hamburgers, priced as high as 570 yen each, has already created a big buzz in the news. Only time will tell if it succeeds.)
This year Ganso's summer campaign titled "We Love Handmade! 2013" offers participants a do-it-yourself experience where you try making food samples, and a guided tour at the Amuse Museum, where you get to see the special exhibition of traditional fabrics and a collection of some famous ukiyoe prints in digitalized forms.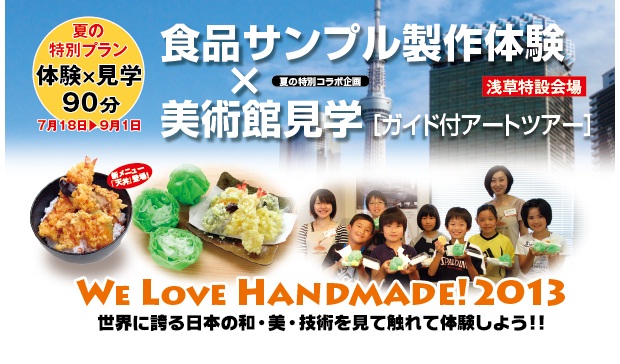 For the hands-on experience, you can choose from two options, a tempura bowl or a set of tempura and lettuce.
It hasn't been very long since the handmade concept became a marketing phrase that most effectively appeals to the authenticity of merchandise, and perhaps it won't be too long before we see the phrase stand as a brand on its own. And money will remain the only medium by which we can show our appreciation and support for the creators.
Now I'm not sure if we as consumers are getting dumber or smarter in recognizing the value of something.