Rakuten, the world's most successful badly designed virtual mall, continues its march into all offline walks of Japanese life. After opening a cafe in Shibuya last year, now it offers a collection service using lockers at stations.
It has teamed up with Japan Post to set up lockers inside Tokyo post offices, as well as 50 other places around the country where customers can collect the item they purchase on the online market.
It ran a trial of the enterprise last year in Osaka and the response was good enough to expand it nationwide. There is a need for the service because sometimes people who live alone are not at home enough to be able to accept deliveries easily — they might prefer to accept a parcel from a locker near their work or college. Likewise, the Osaka trial showed that there are many young women who would prefer not to have delivery men come to their home address.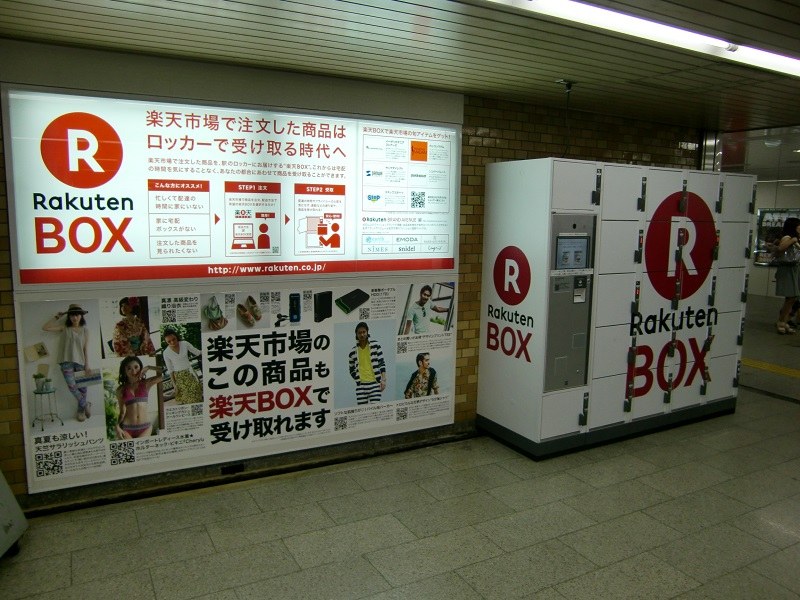 Rakuten is here using the lockers the Japan post office already offers in around 30 post offices in Tokyo for its own delivery services.
When you purchase something on Rakuten (domestic sales only), you will be able to choose the lockers as a delivery option using Japan Post's Yu-Pack service. You are emailed a notification and password when the package is placed in the locker, and only you can input the passcode to open the locker. The lockers can hold the delivery for three days, after which unclaimed items are removed.
"Rakuten Box" sites will be set up at 50 locations around Japan over the course of 2015, including at major train terminals. These will function in the same way as the post office lockers, and will surely be popular with people who want to pick up a parcel on their way home from work or college. The lockers don't yet have refrigeration functions so you cannot use the items for certain food or drink orders.
Currently you can already send packages from all convenience stores and also pick up deliveries at some. With this service, though, the process becomes even more private, which certain kinds of people may prefer or may prefer for certain types of orders.
The service starts in April so look out for Rakuten-branded lockers. The Rakuten Box units may also be popping up in many kinds of locations in the future. Rakuten hopes they will be installed in other shops (there is no fee) so we can likely expect to see them in convenience stores in the near future.
Image source: Tsuhan Shinbun