Yesterday we introduced the iDoll, currently being showcased by ad agency Hakuhodo at SXSW Interactive Festival.
Another prototype by Hakuhodo — and just as outlandish — are the Talkable Vegetables, also featured at the SXSWi Hakuhodo Prototyping the Future booth.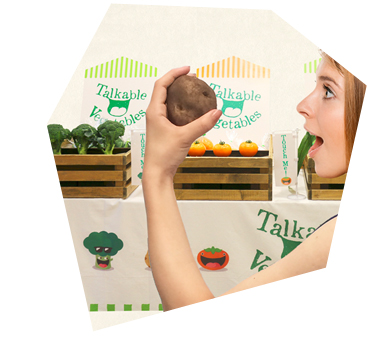 This unique in-store promotional tool is a "machine that delivers farmers' honesty" and takes the produce section of the supermarket into the future.
Jointly developed by Suda Lab and Hakuhodo i-studio's HACKist creative lab, the Talkable Vegetables are, perhaps not surprisingly, a world first. The voice of the farmers that grew the produce actually tells the potential consumer where the veggies are from and what is special about them.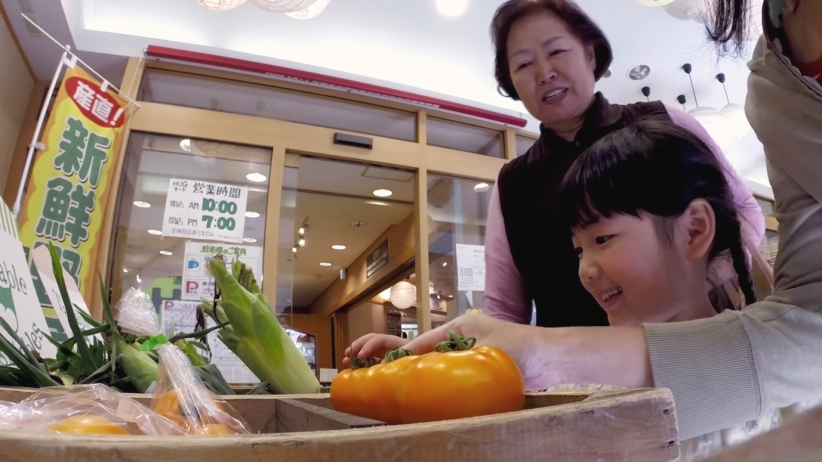 How does it work?
By turning the voltage differential between the moisture in humans and vegetables into an audio signal, just [by] picking up a vegetable, customers initiate an interaction in which various messages can be conveyed.
This tech makes it possible for:
(1) Customers to confirm a farm product's safety and trustworthiness by listening to the information from the farmer.
(2) Customers to get a sense of the farming environment, and the origins and values of the produce at the point of sale, no matter how removed from agricultural regions.
(3) Customers to enjoy a fun, next-generation experiences of vegetables themselves becoming part of the retail system.
Vegetables with personality? We're not sure if this is scary or brilliant.
Clearly the infrastructure required — recording the farmers' messages individually for each crop, special speakers set up to deliver the sound to the holder — will surely limit the application of the system, but this is one neat way to bridge the growers and the consumers. Traceability has also been a big issue in Japan of late, following a spate of food scandals in 2013. In certain supermarkets it is common to see signage and labelling directly naming the farmer and farm where the produce came from.
The system has already been tested successfully in Hug Mart, a store in Sapporo, Hokkaido.
Another exhibit at the Hakuhodo SXSWi booth is the award-winning Rice Code, an "smartphone app that turns scenes of all kinds into a sales floor". You point the camera of your smartphone at a large piece of rice paddy art. The installed dedicated app then recognizes the art and takes the user to an e-commerce site where they can buy rice.