As we reported last May, the "cool/cold beer" trend has crossed over from actual bars and restaurants to home "toys". You haven't lived until you've tried Kirin's Frozen Beer at least once (for some, once is more than enough!).
Takara Tomy has led this movement of household beverage coolers, though the veteran toy maker has also had more than its fair share of imitators. Most are designed for beer, since the Japanese summer is ridiculously hot and humid, plus in any season, a frothy head on a beer is regarded locally as a good thing. With the help of these gadgets, you can pour yourself a draft-style sud even when it's just out of a can.
The demand for these types of toy-gadgets is not only the Japanese obsession with frothy beer. Surprisingly many people aren't aware how the angle of the pour affects the amount of foam, meaning there is a demand for convenient devices that can do the hard work for you.
One of the Takara Tomy Arts products is the Sonic Hour, a mini plate that you place your beer glass on to generate foam by ultrasonic waves.
Now the makers have created an update for 2015 — Sonic Hour Portable.
This is the mobile, handheld version that is even easier to take around with you.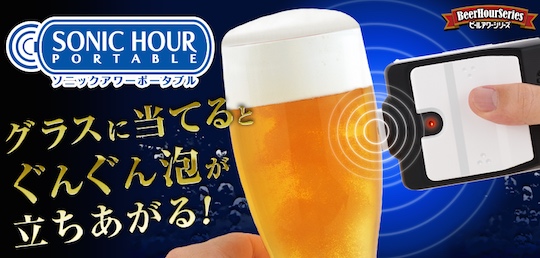 Now the process is simpler. All you need to do is turn on the Sonic Hour Portable, place it directly on the glass (only partly filled with beer), and let the ultrasonic waves pass through into the liquid to generate a thirst-quenching foamy head.
The makers say it works best with ordinary glasses, rather than mugs or thick tankards (e.g. the classic Japanese jokki glass).

Since it's so light and easy to use, slipping the Sonic Hour Portable (available in white or blue) into your bag or hamper when you go hiking or out on a picnic is one sure way to get that freshly pulled draft beer taste wherever you are.