It's that time of the year.
Ever since I was a little kid, I have been told the same lesson. Make sure you wash your hands and gargle when you get home. And if you ever get a cold, be sure to think of others who are sound and healthy, before anything else. The best way to show that you are considerate enough of others when stepping on a crowded train while suffering from a high fever and runny nose is, of course, to wear a face mask.
No one wants to get sick, yet a company that specializes in making surgical masks and other pharmaceuticals somehow has to promote their products.
Tamagawa Eizai seems to have found the perfect way to shed light on their Fitty masks with a one-of-a-kind competition, a Masked Beauty Contest.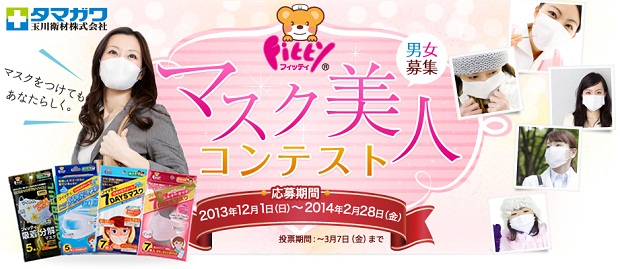 The winner of the contest will receive a prize of ¥300,000 and will get cast in one of their TV commercials (though it might not be the lead role.) Two runner-ups will get ¥100,000 and a package of assorted company products. There are some other prizes as well, which reward each recipient with the assorted package and a gift card worth of ¥20,000.
Anyone who lives in Japan can apply. The contest runs from December 1st to February 28th, 2014. Simply send one picture of yourself, the best shot that gives judges a sense of the real you hidden behind your mask, and a catchphrase to accompany it. Winners will be decided by online voting and company employees.
Here is the TV commercial for the featured Fitty mask.
What do you think? Can face masks be beautiful?