Ready for some lovin'? Perhaps you live in a guesthouse, a tiny apartment with paper thin walls, or with too many roommates/relatives/children/grandparents all up in your business, and not in a good way. You could go to a regular hotel, but respectability is boring. Plus, who doesn't love mirrored ceilings, jacuzzi tubs, and complimentary flavored rubbers? Erhm…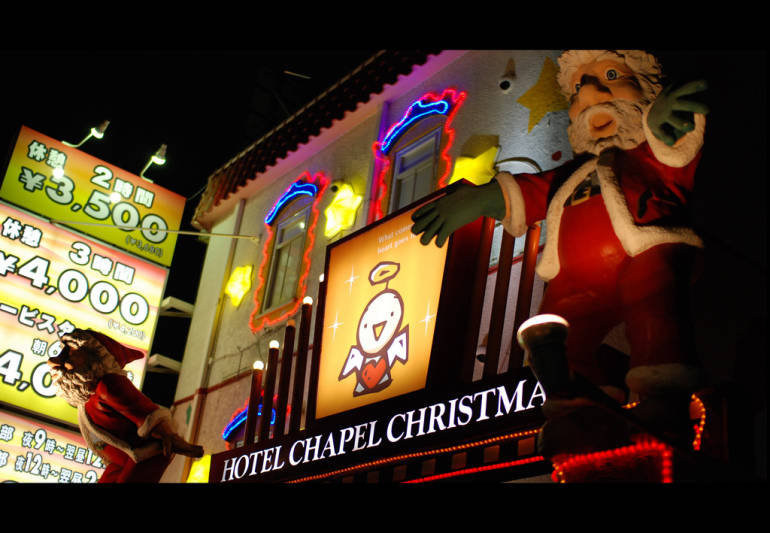 Enter the Tokyo love hotel, or rabuho (rub hotels?). Though this idea might seem sleazy to people used to the idea of no-tell motels back home, love hotels are super clean and used not only by trysting lovers, but middle-aged couples looking to get away from the live-in in-laws (and vice versa). Also called fashion hotels, couple hotels, and leisure hotels, these kitsch havens offer fun themed sleeping (or not sleeping) experiences for prices comparable to business hotels. Additionally, there are a few workarounds that can save you some extra yennies.
Who
While most Tokyo love hotels tend to be anonymous, often with no human interaction (other than with your special friend) during the transaction, there have been reports of some people being turned away for being not the "right" clientele. These stories of refusal include same-sex pairs, groups larger than two, and non-Japanese looking (or speaking) people. However, we have never been turned away, and have visited quite a few establishments.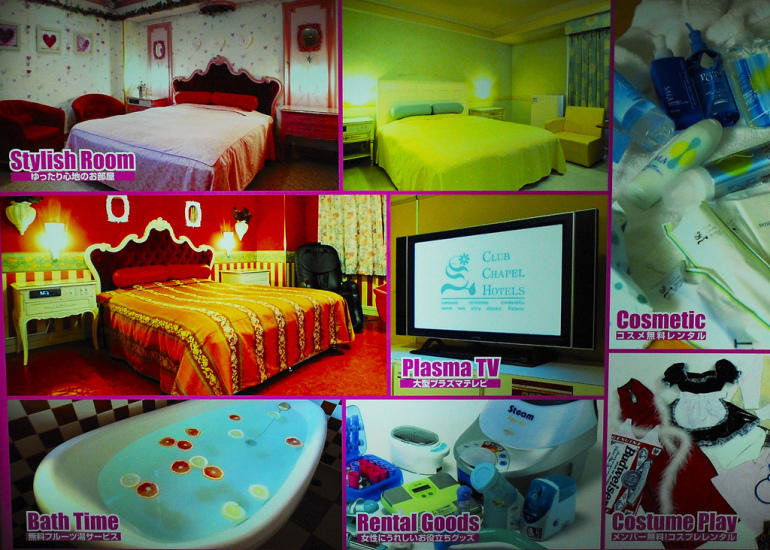 What
Love hotels can be identified by their creative names and kitschy façades. Witness: Hotel Casa Nova, XO Shinjuku, Casablanca Ikebukuro, Hotel Zebra, Ramses Club, Hotel Adore, Hotel Ring My Bell, need we go on? Often adorned with neon colors, and gaudy decór, most love hotels have some degree of boudoir fancy that makes them easily identifiable. Indoors, you'll find rooms decked out with themed decorations (or bland themeless rooms if it's really budget), fancy bathrooms with showers for two, jet baths, etc., and a TV stocked with all kinds of, ahem, special channels. Unlike biz hotels, you don't have to pay extra for the juicier programs.
There will also sometimes be room service, vending machines with various toys, karaoke machines, disco lights, costume rental for some spicy cosplay, and more. We've stayed in rooms decked out with: flowers, figurines, and tinkly lullaby music playing overhead (creepy), a Chinese opium den themed room, a pole smack in the middle of the room, velvet paintings, the list goes on. The bathrooms tend to also be even more well stocked with toiletries than your average hotel: shampoo, conditioner, lotions, creams, hair products, and of course, contraception. Two seems to be the standard for free condoms, so if you're planning a marathon, you may want to come prepared.
When
Rabuho famously have "rest" (休憩) times (lasting about 2-3 hours) and "stay" (宿泊) times (overnight). Rest rates start around 3000 yen, while stay rates are about two to three times that of stay. Check in times for a stay start pretty late – think 10 p.m. or even later, checking out around 10 or 11 a.m. One bargain to look for: "service" or "free" time (サービスタイム or フリータイム) is the best deal, typically because the hours are off peak/inconvenient. For example, taking a room from 6 a.m. to 6 p.m. might be half the cost of the stay rate. Of course, rates vary by location, and you might not want to sleep the daylight hours away, but for night owls, dancing fools, all-night-karaokers, and people willing to mess up their circadian rhythms for a deal, service time just might be your jam.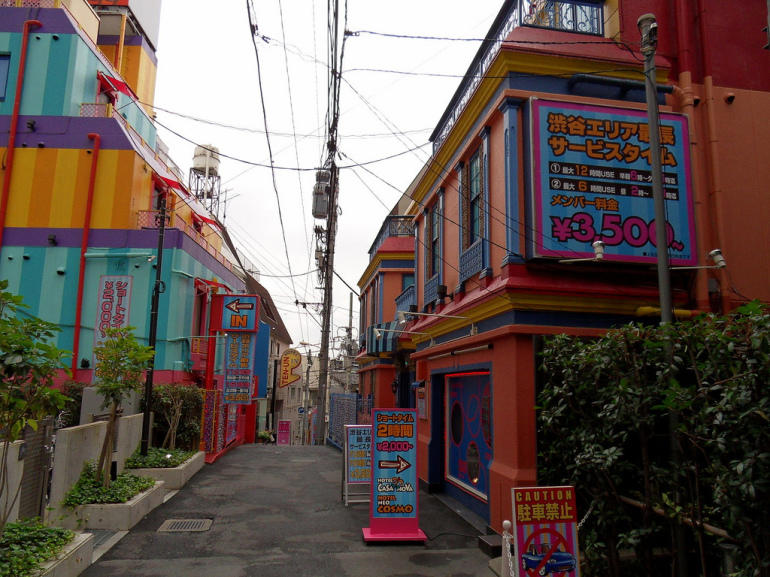 Where
These hotels can be found all over the city and country, but the biggest areas in Tokyo for concentrations of hotels are Uguisudani near Ueno (82 in the greater ward), the Dogenzaka "Love Hotel Hill" area of Shibuya (71), Shinjuku's Kabukicho (94), and Ikebukuro's East, North, and West Exits (108) according to Happy Hotel. The site (in Japanese) has a fairly comprehensive listing of hotels, with addresses, ratings, pictures, and even some coupons for things like free drinks or a thousand yen off the room price. But for the more spontaneous, a good bet is to just stroll around one of the districts, look for one whose aspect and prices fit your fancy, and saunter in.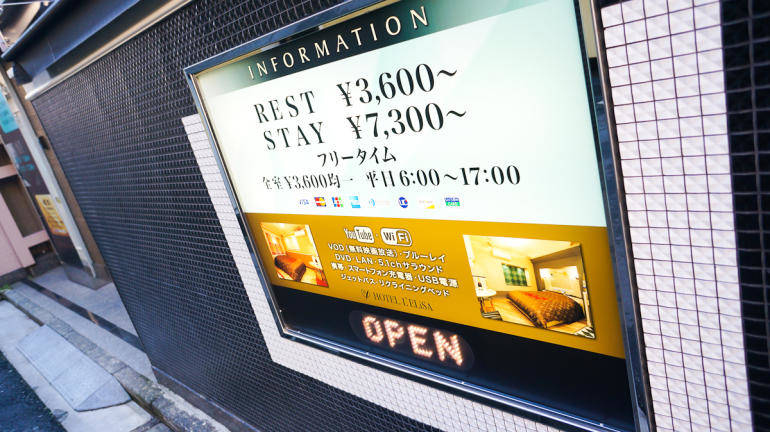 How
Love hotels can be identified not only by their fetching fronts, but by the signs advertising rest and stay prices. Once inside, you're likely to encounter a big board with pictures of various rooms and their prices. Rooms that are lit up are available; if they're dark, they are occupied. Choose a room, and either press the button on the board itself, or on a nearby machine. Occasionally, you will have to deal with a human to whom you'll tell your choice, but the clerk will usually be behind a small window in a wall, with only hands visible. Eye contact is almost never made. Unless it's an old lady at the desk — then brace yourself for awkward greetings and no less awkward thanks on the way out. But either way, your secrets are safe here.
Sometimes you'll get a key, but often you'll be directed to just go to the room, where the door will be unlocked. Once in, the door locks automatically. Some hotels do not allow re-entry, so when you leave, be ready to pay. Payment is usually at a machine: sometimes in the room, sometimes by pneumatic tube (yes, really), and occasionally through the tiny window with the floating human hands. Typically, payment is made on exiting, and they'll charge you if you've overstayed. Sometimes though, you do pay up front.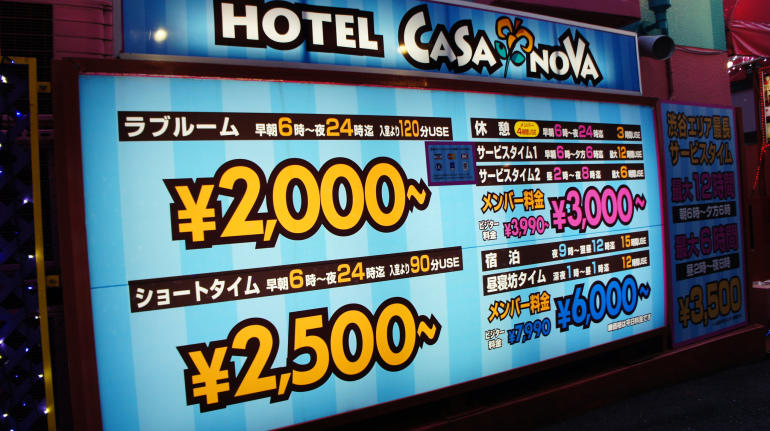 Finally, some hotels offer membership cards. Just like at the supermarket or the coffeeshop, you can earn points, discounts and free stays with your loyalty to a certain chain. Prices for these cards vary; some of them are free, while others take a small membership fee. Kind of a modern notch-on-the-belt (or bedpost) system. This will either give you great delight, or make you realize that you might save money moving into an apartment with thicker walls and fewer roommates.