The popularity of kabe-don seems to show no sign of letting up.
After GU in Ginza "seduced" female (and male) customers by having two hunky models plant their hands on the wall to trap them in a position perfect for a smooch, now Odakyu Department Store is offering kabe-don "dream bags".
This is a variation on the usual "lucky bags" (fukubukuro) traditionally sold by department stores and other shops during the New Year sales. You don't know what you get, but the chances are what's included inside the mystery bag is worth much more than the fixed price.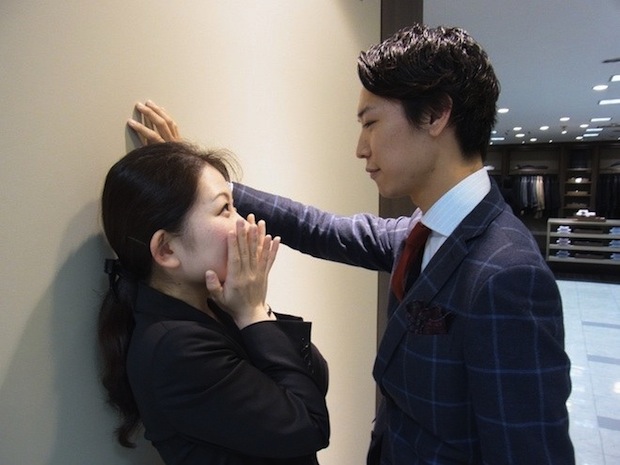 A big shift in the lucky bag retail concept has been that customers today can sell on the contents using internet auctions. It means there is now no real demerit to the system. If you don't like one of the things in the bag, you can just sell it as new to another person online.
And this gets more interesting if the lucky bag includes limited edition or other special items, meaning you can sell them on at inflated prices.
Some department stores instead opt now to offer real-life "experiences" for shoppers who brave the New Year crowds, such as a hug from Funassyi (yes, that's a real — and expensive — example).
Odakyu is offering "dream bags" for ladies seeking the kabe-don wall thud experience. All right, the department store is not actually offering instant kabe-don sessions for women right there in the store (perhaps that's coming next year). Instead, the bags are actually meant for men (or women who want to dress their man in the image they desire). Priced ¥10,000 (around $100), the bags each contain a handkerchief, tiepin, cuff buttons, mouthwash, and perfume — the ideal set of items for a man who wants to give his lady friend a kabe-don seduction in a real gentlemen's guise.
If you fancy trying this out, you'd better hurry because there are only five of the kabe-don "costume" bags available.