This article by Frances Maeda first appeared on Tokyo Cheapo.
Early autumn is a great time to be in Tokyo. Except for the odd typhoon, the weather is just right, and there are heaps of free events to enjoy. Here's our pick of five particularly awesome ones, bringing you the best of Japanese culture both traditional and contemporary.
1. Nezu Shrine Festival: September 20th-21st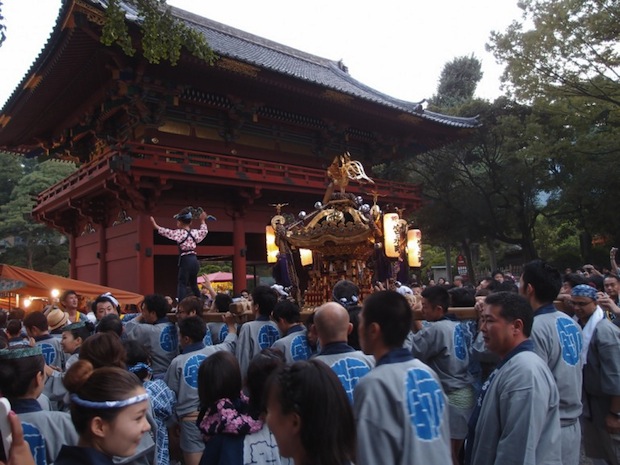 Nezu Shrine Festival Photo by Guilhem Vellut used under CC
A festival with a long history, held at a Shinto shrine with an even longer one. Nezu Shrine, most famous for its azalea festival in spring, was officially established in 1705, but is said to go back more than 1,900 years. The story goes that it was founded by the legendary priest Yamato Takeru no Mikoto (give him a Google) in Sendagi, and then moved to its current location. The shrine's Annual Grand Festival was first held somewhere around 1714.
Well-known but not well-publicised, the Grand Festival, or reitaisai, is a chance to see the traditional Shinto dances Urayasu-no-mai and Sanza-no-mai (the latter featuring fearsome masks), as well as taiko drumming and some very old mikoshi (portable shrines) being paraded around. It's also a good opportunity to try typical Japanese festival food from stalls that will be set up in the shrine precincts. Think takoyaki, yakisoba, squid stuff and various foods on sticks.
The Grand Festival is not to be confused with the newer Shitamachi Matsuri held at the shrine on October 20-21st — also a worthwhile event to check out.
More info here.
2. Tokyo Game Show 2014: September 20th-21st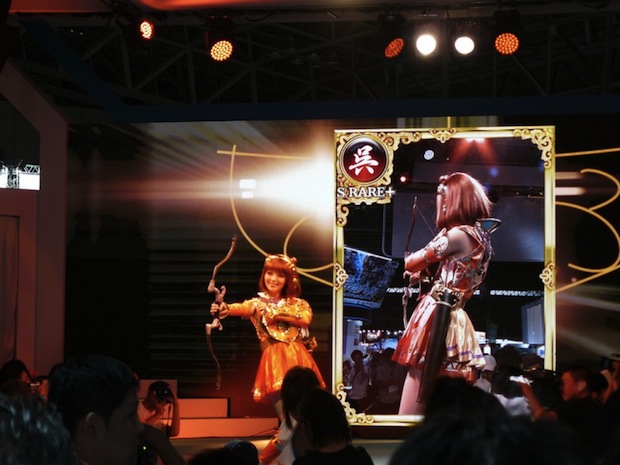 Tokyo Game Show photo by LonelyBob
Happening on the same weekend as the Nezu Shrine Festival is one of the world's biggest gaming shows (don't worry, you'll have time to do both). First held in 1996, Tokyo Game Show has grown like crazy, attracting close to 300,000 visitors last year. Some people come on tours to Japan just for this event. There are booths by all the major game companies (except Nintendo… yes, really), with chances to try the latest games. You'll find everything from romance sims to huge titles, indie stuff, smartphone games and merch.
You can expect cosplay, skimpily clad girls (cough, gender issues in gaming, cough cough), and possibly some important industry announcements. Rumors are afloat that something big will be going down about Final Fantasy XV and maybe PS4 too.
1,000 yen and a couple of hours of queuing (seriously, go early!) outside Makuhari Messe will get you in. More info here.
3. Narita Fireworks Festival: October 11th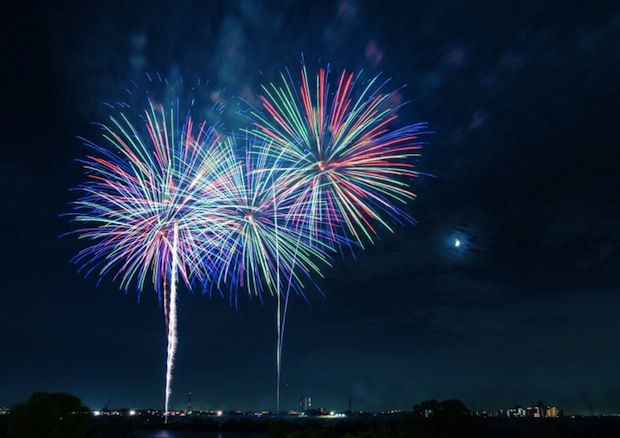 Most of Japan's mega fireworks shows happen in summer, but this is an autumn one — and a fairly big one, too. 10,000 shots will be fired into the sky above Chiba's Narita City, making for a decent display with a variety of shapes and possibly even a couple of cartoon character designs in the mix. Just 10,000 people are expected to attend, making it a much more chilled event than the unbelievably crowded Edogawa and Sumidagawa Fireworks Festivals held earlier in the year (10,000-12,000 shots go off at those shows too).
The venue, Narita Daikata Newtown Sports Square, is a few kilometers from JR Narita Station. There will be buses running both ways, but if you get stressed, it's a short 5-10 minute taxi ride (just bear in mind that taxis are not all that cheapo-friendly).
More info here.
4. Oeshiki Festival at Ikegami Honmonji Temple: October 11th-13th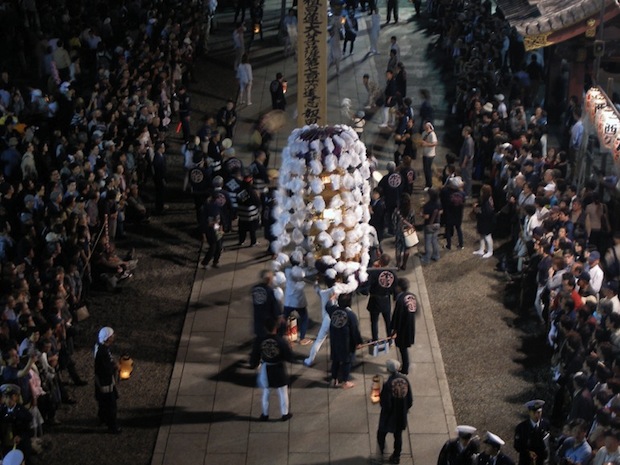 Oeshiki Festival Photo by raccoflickr used under CC
A Buddhist festival commemorating the anniversary of the death of Nichiren, a revered Buddhist teacher who lived during the Kamakura period (700-800 years ago). The event is marked across the country, but this version is the most notable as it was at Ikegami Honmonji Temple that Nichiren passed away. He is also said to have founded the temple in 1282 (it underwent reconstruction over the years, though).
The highlight of the festival and an incredibly beautiful experience is watching 3,000 people carry 10,000 lights along a 2km route through the streets. For this rite, called mando, sacred lanterns are decorated with cherry blossoms and hung on 5m poles. Prayers are chanted to drums and flutes in the background.
This is a popular event, and the road from the station to the temple can get crowded – so get there early to secure a good vantage point. The mando has been held on the 12th in previous years, but it's a good idea to check the temple website ahead of time to confirm.
More info here.
5. Japan Robot Week 2014: October 15th-17th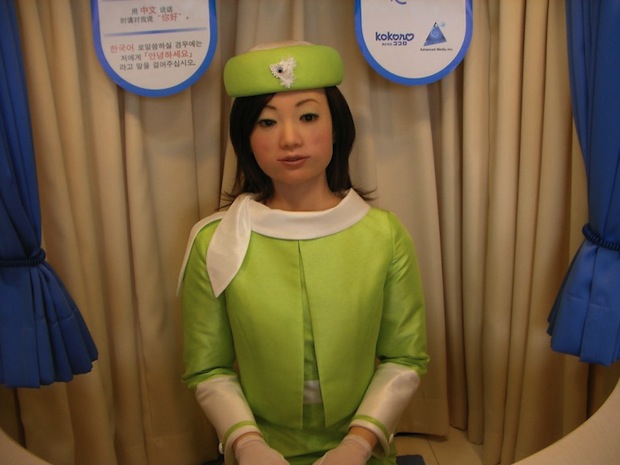 If you're in Tokyo, you need to go to this event simply for the stories and social cred at cheapo dinner parties later. The expo is all about service bots — showcasing technology that it's hoped will revolutionise fields like nursing, life support, disaster response, farming and more, and in so doing help Japan's "aging society" problem.
Look out for "Excretion Support" robots, as well as something termed "Hand" in the Medical Robots category. Is it a bionic hand? A hand-shaped robot? Let us know, if you find out.
If you get bored, you can always check out the vacuum show that will apparently be happening on the premises too. Did someone say Roomba?
More info here.
Bonus event: Ohara Naked Festival
This event sounds a lot more scandalous than it really is. Partly nude men cart a portable shrine down to the sea and dunk it in the water. It's good clean fun.
For more events, like the Ramen Festival, check out our regularly updated Events pages and sign up for the weekly Cheapo Weekend events wrap.