Thank God for hipsters. When all else fails and the media is amok with already notorious reports (supported by dubious stats) that Japanese people apparently no longer have sex, you can always at least rely on the fashionista to still find ways to enjoy themselves.
Tweed Run Tokyo took place on October 14th, featuring some 150 tweed-dressed cyclists going for a ride around the city. No, they weren't out on some stag hunt, nor was this a Sherlock Holmes fanatics' event. It was actually part of Fashion Week and is a spin-off from the original Tweed Run in London. The British version started in 2009, while the Tokyo "run" happened first in 2012 and with the amount of publicity it generated, surely next year's edition is a sure thing.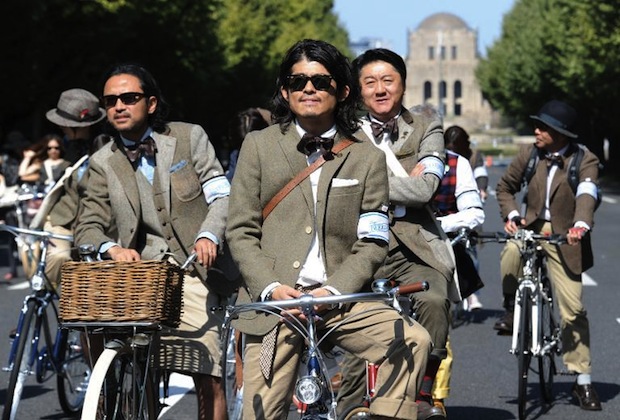 "It's so Tokyo, I would say," one of the participants told the media. "We are using this traditional fabric in many modern ways. It's part of the diversity of fashion."
"So Tokyo"? Well, I wouldn't say that. Except for the odd bit of Aoyama backstreet tomfoolery, you'd be hard-pressed to find many regular folk dressing as dapper as this. Still it makes a change from the usual exquisitely, expensively decked-out runners and cyclists that can be glimpsed around the Imperial Palace.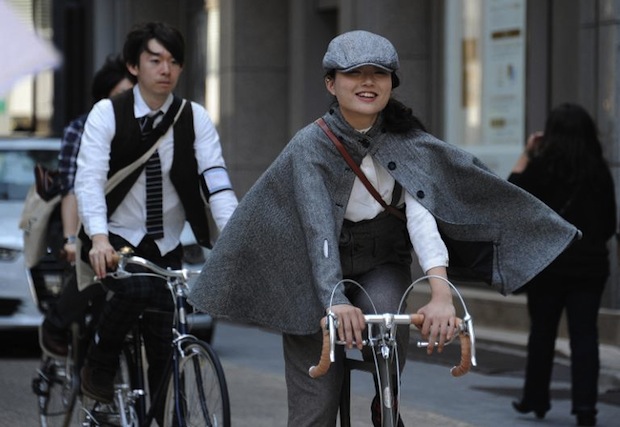 Given that this is the nation that created the culture of cosplay, we shouldn't be in the least surprised that 150 cyclists jumped at the chance to dress up for a group bike ride.
This year's event saw the costumed bikers tour leisurely from Gaienmae to Ginza over a couple of hours, and the participants seemed like a reasonable mix of ages, though it was clearly male-dominated.
We wonder whether they could introduce some sort of Japanese flavor to the proceedings. How about cycling around in kimono? Oh, hang on…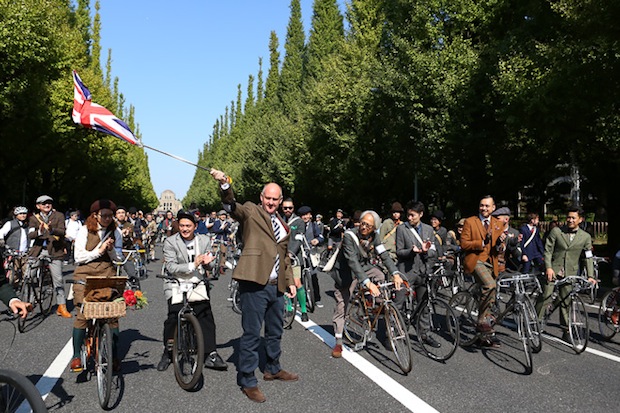 Anyone who lives in Nagoya can check out the city's own version of the Tweed Run — remember, it's cycling, not jogging — on October 26th (barring another typhoon).
You can see a nice gallery of participants elsewhere or on the official Facebook page.