At first, it was sensational. Then it became a trend. Now we've all had enough. Someone has been there, and someone else has done that.
This summer, Japan witnessed a great number of youngsters exercising their freedom of expression on the web. In most cases, their "artwork" — or photos — shows them posing inside various equipment or playing with food at their restaurant or store at which they worked part-time.
The picture below was the first to make headline news. It shows a young man inside an ice cream freezer at one of Lawson's convenience stores in Kamobe, Kochi. The photo was originally uploaded on his friend's Facebook page on June 18th. Later we learned that he was the son of the store owner.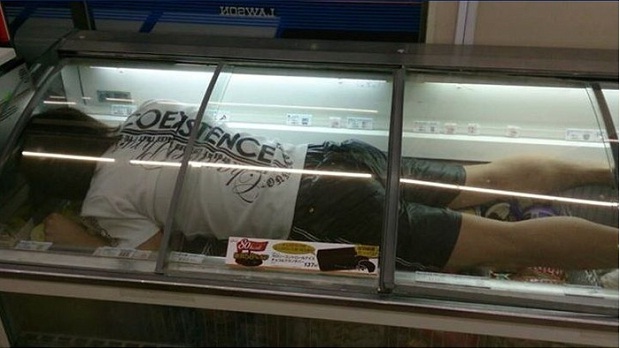 Lawson was quick to react, not so much to discipline their young employee, but to protect their brand image. They issued a statement on their website, one month later on July 15th, saying that they had decided to terminate the franchise contract with the owner and to close the store "indefinitely" — until they find a new owner.
Following the above post, a number of similar photos went viral on the web, some of which made their way onto TV news.
There was a photo of a Burger King employee lying on a pile of burger buns on the floor. An employee at Marugen the ramen chain restaurant, posted a picture of herself holding frozen sausage in her teeth, winking at the camera. A young guy working at Hotto Motto, one of the biggest bento chains, got himself inside a kitchen fridge presumably trying to take a little nap during his break.
And there was this guy, a Pizza Hut employee who tried a little harder to entertain his fellow workers and some other millions of potential crowd on the web.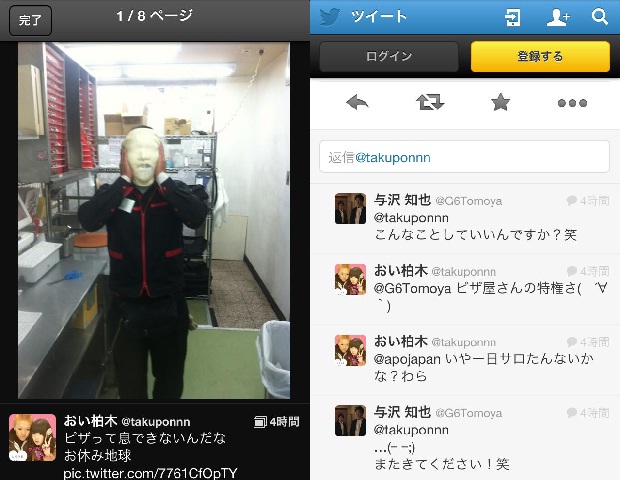 In his tweet, he says that it is his "privilege" as an employee at a pizza store who gets to play with pizza dough. The photo was originally taken and uploaded back in May, and the parent company, KFC Japan, posted an apology on its website on August 19th, stating that they would "take severe action" against him. The three months "gap" we can see here tells that he was not necessarily a copycat. When we look at this trend, we should keep in mind that some photos were taken before the Lawson news came out. The "viral" part has a lot more to do with millions of netizens in Japan, trying later to dig out the undiscovered photos of "inappropriate" pranks exposed on the web.
Although many of the affected companies have quickly issued an official apology on their respective websites and stated that they would take "severe action" against the involved parties, some of them completely missed the point. For example, Burger King and KFC Japan stated that the food in the photos was to be disposed of and was never served to customers — as if such excuse could make them less guilty of the act. Hygiene, after all, is not the only issue here, but disrespect. On the other hand, Bronco Billy, a steak chain, went so far as to shut down the store after a photo was discovered of an employee playing inside the kitchen fridge.
Finally, on August 26th, two 19-year-old fishermen in Kushiro, Hokkaido, were arrested for damaging a police car. The photo was posted the day before on August 25th, and they probably never imagined that one Twitter photo could turn into a criminal record in a matter of hours.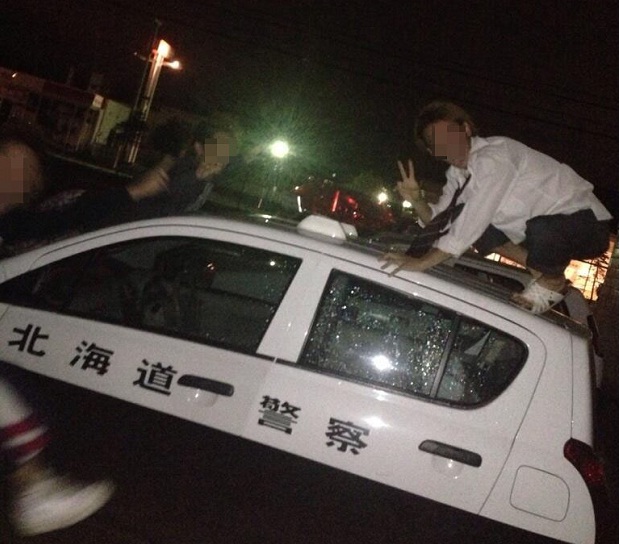 Thus (hopefully) concludes the summer trend of 2013. Facebook or Twitter has once again proven itself to be a great tool, allowing us to see what could be happening behind the counter. In fact, there is nothing new about the prank itself. We just didn't have any visual testimony till now.