It's official. Having glasses is cool.
Japan has long regarded glasses and eyewear as serious fashion items, which is why companies like Jin and Zoff go to great efforts to market their products in interesting ways, such as setting up vending machines for glasses.
Glasses are so cool they have even inspired their own typography by font designers.
And now glasses have their own dedicated hipster fashion magazine.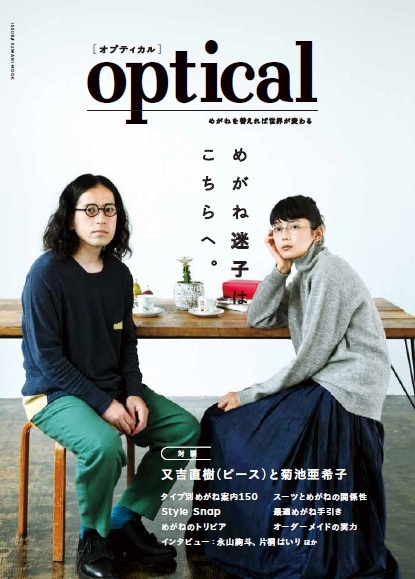 "Optical" will be published four times a year by Yoshimoto Books, with the first issue going on sale in Japan on September 25th. Aimed at men and women who wear and like glasses as lifestyle and fashion accessories — and not just tools for seeing better — the front cover features comedian Naoki Matayoshi and model and actress Akiko Kikuchi, who is also a part-time editor herself. Needless to say, Matayoshi and Kikuchi all wear glasses, and very snazzy they look in them too.
The content includes photo stories, interviews with celebrities who wear glasses, and more. The fashion pages include tips on coordinating your specs with your wardrobe in various scenarios (trips to a cafe, the park, a bookstore, etc). There is also trivia, shop guides, and other articles, all themed around the art of having a cool glasses lifestyle.
The publisher is a subsidiary of Yoshimoto Kogyo, the entertainment giant, so we can expect future issues to feature plenty of content with Yoshimoto comedians.
"Optical" is priced ¥926 (about $10) plus tax.