Right now, we are all starting to lose our patience being stuck at home and are struggling to keep the whole family happy and entertained. Just to keep the kids quiet, you may be allowing them to play video games more than usual, which is of course, far from ideal. And there's only so many TV shows you can binge-watch before you get tired of lying around on the couch.
Suggestion: why not try putting a stop to being bored with some exciting board games? (See what I did there?) And no, I'm not talking about that tedious game Monopoly.
Listed below are five Japanese candy/snack-inspired games that are sure to lift your spirits up and bring your family closer together. I know we're taught not to play with our food, but I think we should be let off with these appetizing games.
1. Kinoko no Yama Takenoko no Sato Othello Game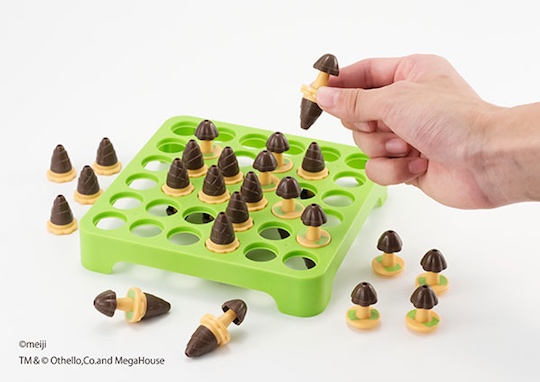 Are you team Kinoko no Yama or are you team Takenoko no Sato? In Japan, the battle between these two chocolate snacks has been an ongoing one and you'll definitely find people favoring one more than the other. Regardless of which side you're on, you can now enjoy both in the form of this unique Othello-style game. Rather than the usual black and white counters, this game features mushroom (kinoko) and bamboo shoot (takenoko) shaped pieces influenced by the two candies. You'll have to keep reminding yourself that these pieces are NOT edible…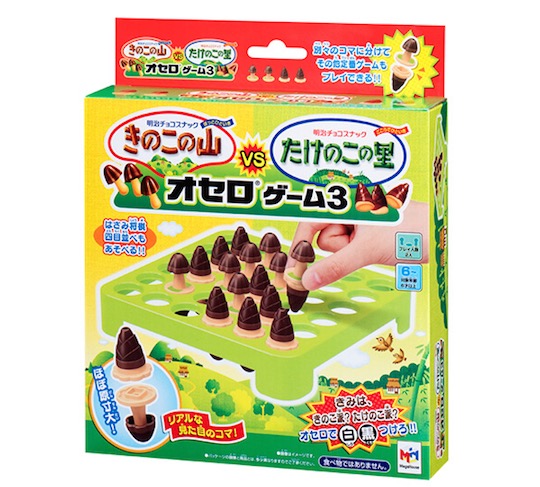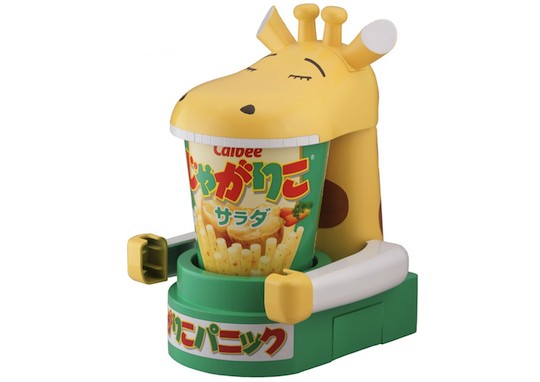 Everybody knows and loves Calbee Jagarico, a tasty, crunchy potato stick snack that comes in a variety of flavors (including vegetables, butter, and cheese) and it's especially popular among young people. Calbee Jagarico Panic is ultimately a delicious remake of the classic Crocodile Dentist game and it's very easy to play. Place your cup of Calbee Jagarico under the giraffe's (the popular Jagarico character) mouth and take it in turns to lift up the jaw. If there is no reaction, you may take a potato stick and eat it. However, if you're the unlucky one, the giraffe will react and all your potato sticks will jump out of the pot! This game can be enjoyed by all ages and may even help with your non-stop, non-sharing snacking habits at home (we can only hope).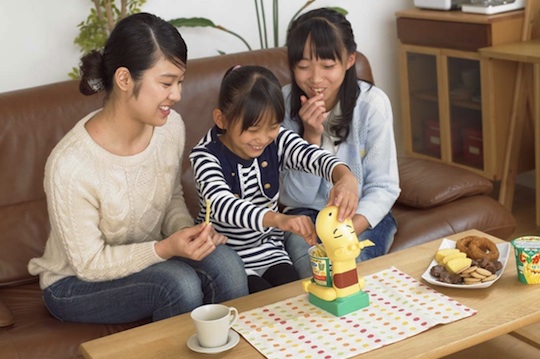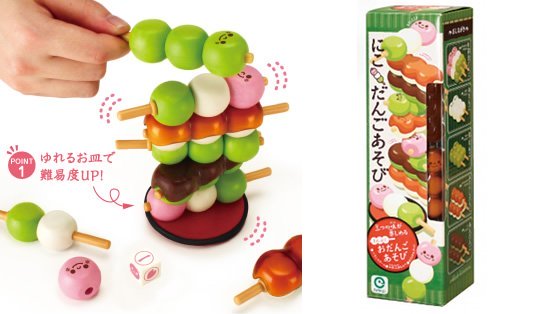 A very popular Japanese dessert is dango — a sweet mochi dessert that comes on a skewer. You can enjoy creating all sorts of dango including the hanami dango (green, white, and pink), shiro dango (all white), kusa dango (all green), mitarashi dango (sweet brown sauce) or an dango (bean paste sauce). One game you can play with the Nico Dango Asobi includes building the skewers of dango into a tower until it loses balance. The game ends when the dango tower falls. The great thing about the Nico Dango Asobi game is that you are not limited to playing just this one game. And once you're done, you can also create some of your own games!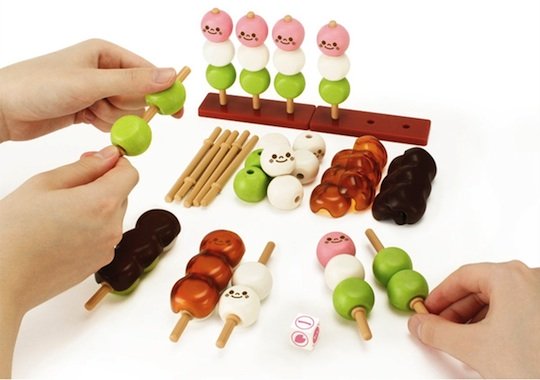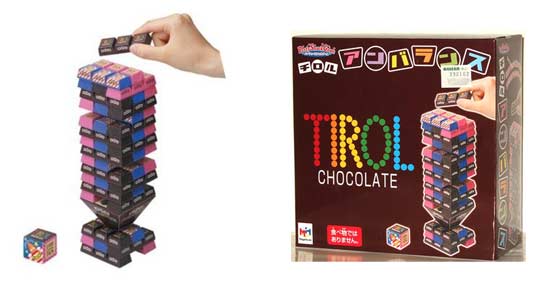 Now, who doesn't love a good game of Jenga? If you do, you'll love the Tirol Balance Game. Tirol Chocolates have been around since 1962, and these individually wrapped chocolates that come in over 300 flavors are loved by all in Japan. This game is a little different from the original Jenga game as it involves rolling a die, picking out a block of the same Tirol chocolate shown on the die, and then balancing it carefully on top of the tower. It also includes a "Deka Balance Block," which is an upside-down pyramid to increase the level of difficulty — especially good for those annoying players who proclaim that "it's too easy!"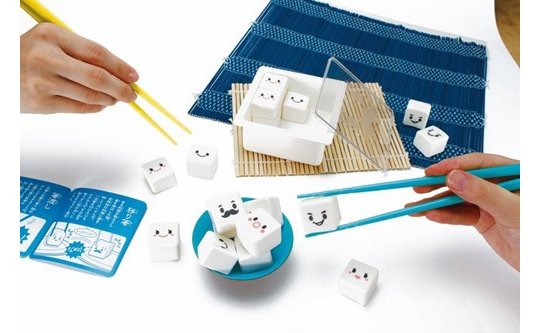 I know tofu isn't candy but this game deserves a special mention. The point of the Manner Tofu Chopstick Game is to learn how to use chopsticks properly all while having fun! Depending on the type, they differ in the level of difficulty in terms of being able to get a hold of them with the chopsticks. Challenge somebody to a game and take it in turns to put as many little tofu blocks onto the small dish before it falls. Again, there are many games you can play with this (see more suggestions on Japan Trend Shop) and you can also create your own!
You'll be happy to show off your amazing chopstick skills and manners by the end of it!