Japan is humid. Really, really humid. Every July and August the citizens of Japan spend their days battling sweat — a particular nightmare for anyone who has to work in a suit or ride the rush hour trains — or mold, which arises due to the sudden bursts of "guerilla rain" or the otherwise moisture-thick air.
Well, the politicos are always banging on about "cool Japan". In the summer there isn't much that's cool about the place. But there are ways to stay cool and here are a few examples.
Beer
An essential ingredient of any season but none more so that the summer. A fireworks display or matsuri festival isn7t complete with a chilled sud in your hand to quench your thirst.
In recent years there has been a big Japanese beer trend towards ever colder beers, from special bars that serve drinks below zero degrees to ones that offer frozen beer foam on top. If you're stuck at home you could compensate with the latest Beer Hour foam maker beer can dispenser, which has a built-in ice pack to keep your drinks even more refreshing.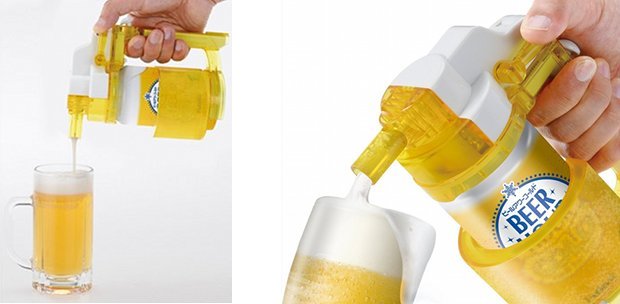 USB Shoe Cooler
Avoid sticky feet syndrome with this USB-powered Shoe Cooler, a kind of glorified tube but which nonetheless works wonders to keep sweaty areas more comfortable. It can even be used on your armpits too!

Air Conditioned Clothes
Kuchofuku are a long-established brand of "air conditioned clothes", from pants to shirts, cushions and even bee-keeper suits!
Somen
You are what you eat. And so it stands to reason that if you eat cool somen noodles, you won't be so hot. And for the kids, they can try out this fun Cho-hiehie North Pole Nagashi Somen Noodle Fountain, a bamboo shoot flowing noodles set for home.
Skin Protection
Sun tan lotion — tick. Parasol — tick. Arm cover — tick. Yes, no women in Japan would think twice about riding their bike in the summer without covering their arms. Okay, we might be exaggerating a tad there but you do see these kinds of arm covers a lot. It seems illogical to "cover up" during the hot months and we can't vouch for its cooling powers, but it must do a good job at least of keeping the sun off your skin.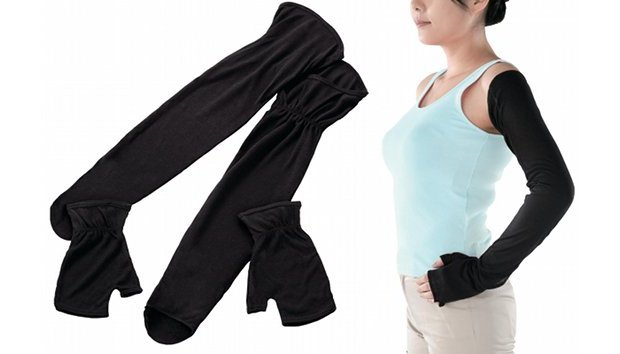 Bonus Round: Fighting Mold
How to keep mold off you clothes, shoes or just about anything? Well, using your air con to keep the atmosphere dry (sorry, eco warriors, it's the best way, as I've learned to my misfortune when I tried to be super green).
Other ways are the various kinds of anti-mold products (Shikke-dori or Joshitsuzai) that are sold in drug stores. These include little packs you put into your drawers to collect the moisture, as well as others that are more like boxes that sit in the closet. There are even ones designed to slip into shoes or over hangers and keep your suit mold-free until it's ready to be worn again in the more clement seasons.