The way the Japanese treat their pets, and especially their dogs – the tiny dogs that can fit into the tiny apartments of megacities like Tokyo or Osaka – is sometimes puzzling: it's often remarked that Tokyo is the only place where you will see the miniature dachshund taking its "walk" sitting comfortably in a dog cart, while the family baby is strapped in a carrier on its mother's back with its head hanging down. To be fair, these two don't often involve the same mother/pet owner, but the truth is that the Japanese care enormously for their pets and often spoil them terribly.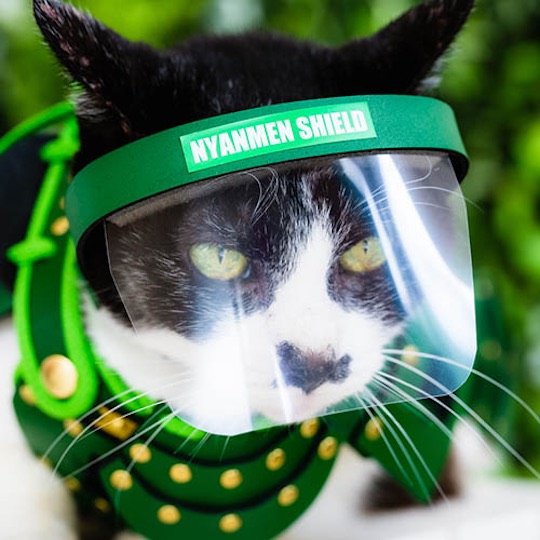 So no one was really surprised when a little while after the Covid-19 epidemic hit Japan, products like the Nyanmen Cat Face Shield appeared in the market – and can be bought globally via Japan Trend Shop. Pretty simple in its concept — i.e., a (now) standard transparent face shield but smaller and with a strap to fit the cat's neck — it promises to protect your feline roommate from the coronavirus. Whether such a promise can be made is the stuff big debates are made of, but there's no doubt it offers some protection. The sturdy neck strap makes sure that it will withstand the cat's objections.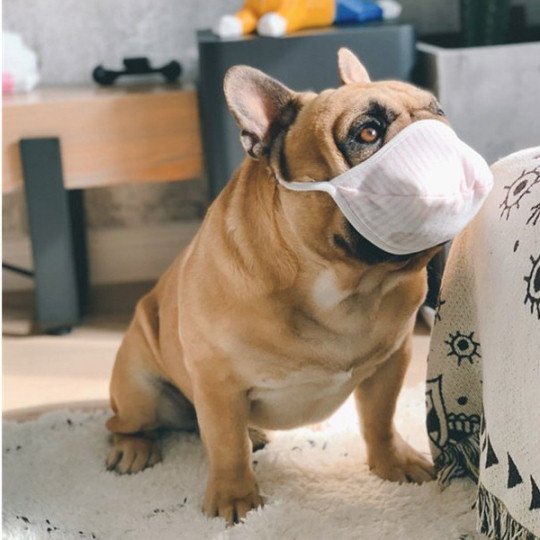 More cooperative than cats, and most of them used to muzzles anyway, dogs followed next, though along a different path: masks. The Wan-chan Dog Face Mask (also available for international delivery at Japan Trend Shop) comes in two models for dogs with short or long muzzles and in three sizes (small, medium, and large). These washable cloth masks will fit most small, medium, or biggish dogs and protect them from airborne particles, bacteria included. Again, whether they will keep away the coronavirus is a matter of debate (or faith), but at least you can get some peace of mind that you did what you could to protect your four-legged friend – or to get protected from him/her.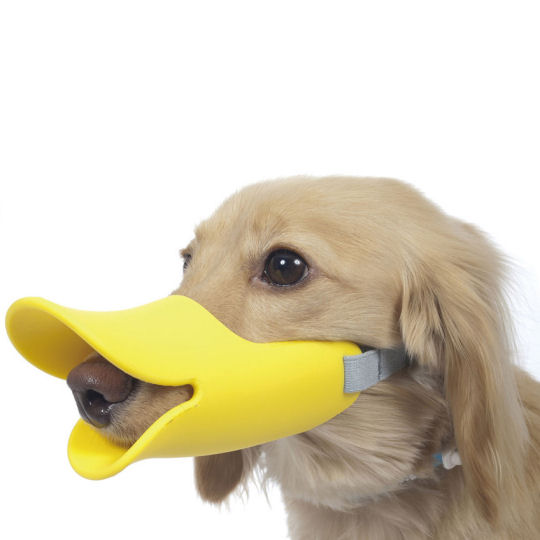 Oh, and since I just mentioned muzzles, I would like to take the opportunity and denounce the Japanese for being rather cruel on their dogs when it comes to particular subject. And by "cruel," I mean that in their efforts to make them look kawaii (cute), they come up with ideas like the various incarnations of the Oppo Dog Muzzle Quack: undeniably practical, but it really makes your dog the laughing stock of any ducks that happen to live in the park where you walk him. No one says it isn't cute but even the most hardcore Japanese pet lover would admit it is more "omoshiroi" (amusing) than "kawaii" (cute). Still, if you would like to bring to the surface the more duckish sides of your dog's personality, you can find Oppo muzzle series online via Japan Trend Shop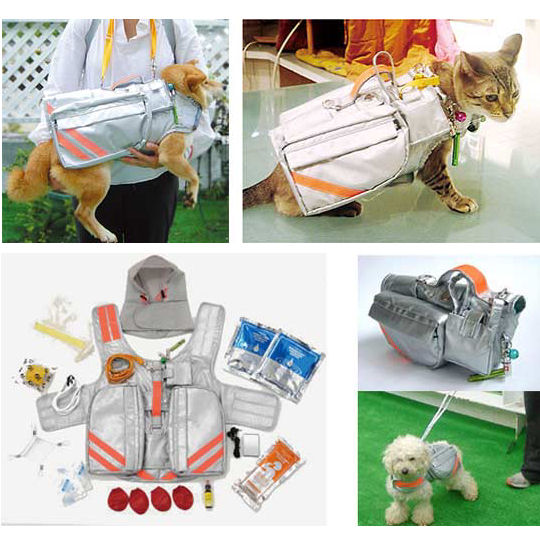 In all seriousness, though, and despite their inherent weirdness, the cat shield and dog mask are the most recent illustration of how much people in Japan truly love their pets. At Japan Trend Shop, we had the opportunity previously to see this with products like the Pet Earthquake Emergency Bag Kit and the Pet Emergency Evacuation Jacket. These are products that can be real lifesavers for your animals, including everything from carrying bags to food, first-aid kits, flame-retardant jackets, protective rain hood, and rubber booties. Especially if you live in disaster-prone areas (like most Japanese do), items like the above are absolutely essential.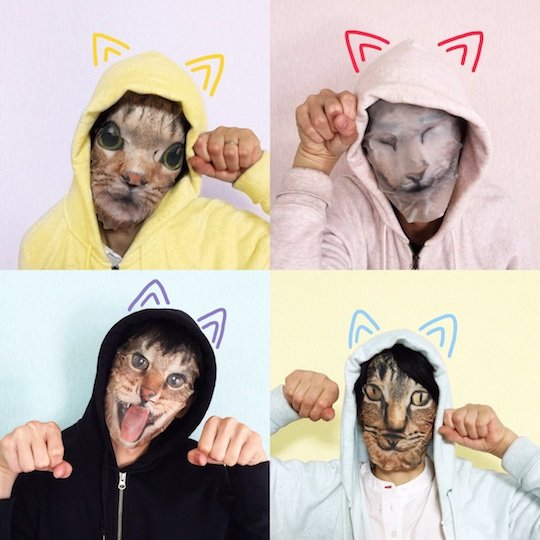 But since that was a little too serious, let's finish with a cat mask that most certainly is not. It's just fun and works the other way around: it isn't a mask for your cat but a mask for you to look like a cat! It's the Cat Face Packs, containing four different designs of one-time-use disposal face packs made of water, hyaluronic acid, and hydrolyzed collagen. Whether it is for taking care of the skin of your face, for cosplay, or for getting unique Instagram photos, these masks will work miracles – and help your pets feel compensated for having to wear human masks!