Though renowned as one of the world's top makers of calculators, Casio was also among the first companies to create quartz watches, both electronic and digital: watches that could display the time in many different time zones and various exotic features like temperature, atmospheric pressure, and altitude. In Japan, Casio is considered one of the top timepiece makers especially when it comes to modern, sports models, mostly thanks to its sturdy G-Shock line. Maintaining such a reputation in the land of Seiko, Citizen, and Orient is no small matter and especially in recent years, Casio has kept its name alive by some unique models created in collaboration with some world-famous brands. In this post, we give you five of these Japanese watches, all from the G-Shock series but at the same time all original!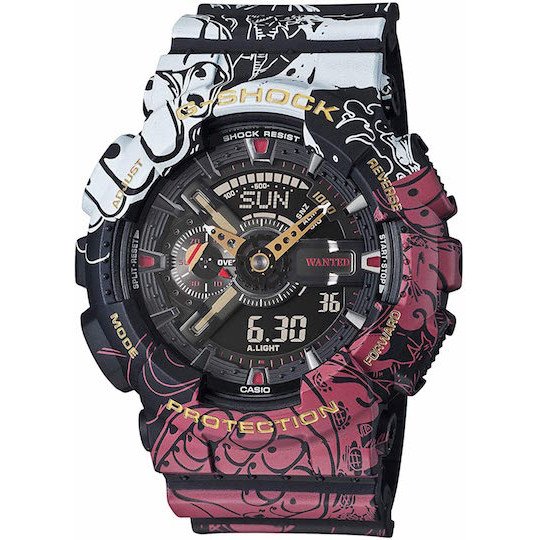 1. One (Time) Piece: Casio Men's G-Shock One Piece Watch
One Piece is the most successful manga of all times, so Casio couldn't resist the temptation of a watch that would appeal to its millions of fans. The indicator of the watch's dial in the 9 o'clock position is decorated with Luffy's straw hat, the word "WANTED" is in the 3 o'clock position, and when the hour and minute hands point to the 2 o'clock and 4 o'clock positions respectively, they combine visually with the two diagonal lines on the dial to form a golden "X" – and these are just a few of the special One Piece features! Add scenes from the manga on the band and a special box and you have a real collector's item for watch and manga fans alike!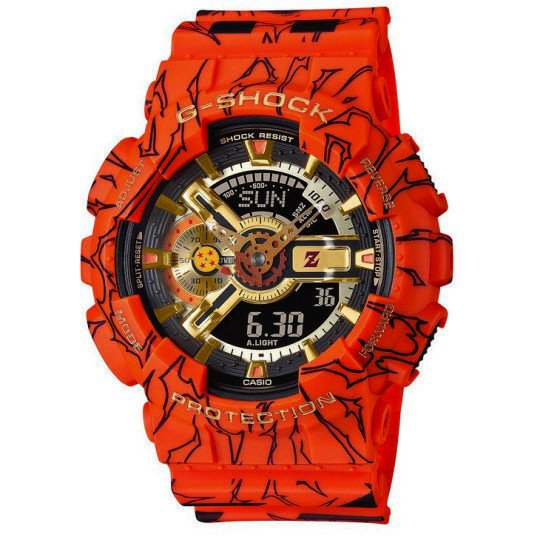 2. More anime: Casio G-Shock Dragon Ball Z Watch
In the world of anime, Dragon Ball Z is a classic, so it had to have a model of its own. This spectacular watch with its bright orange color brings Son Goku immediately to mind and on the dial it features a four-star ball motif at the 9 o'clock position and a "Z" motif at the 3 o'clock position. Like the One Piece above, it also features scenes from the anime on the band and also comes in a special edition box that any Dragon Ball Z fan will immediately love!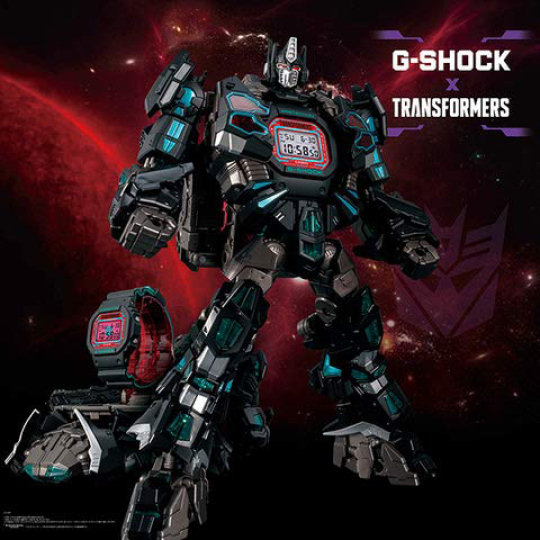 3. Mecha attack: G-Shock Transformers Watch DW-5600TF19-SET
Huge transforming robots are a whole genre of the anime world. To honor it, Casio worked with toy-maker Takara-Tomy to incorporate one of its G-Shocks to the Transformers series. Here, things get wild not when you are wearing the watch but when you take it off, since it is docked in the chest of the Nemesis Prime robot figure that comes with it. If you want a classic Casio digital watch as a mecha fan, this combination is for you: your wrist and desk will never be the same!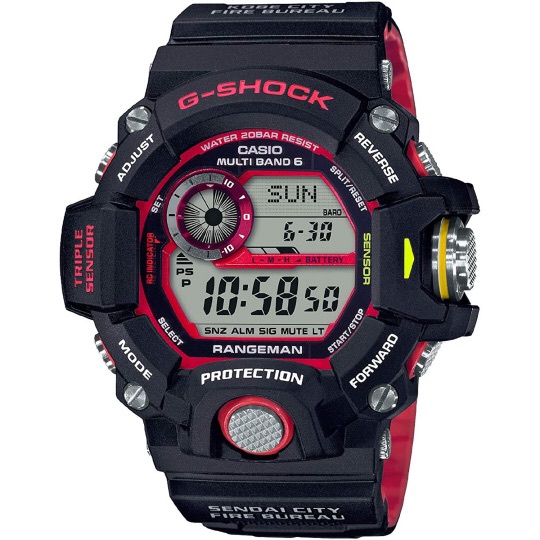 4. Real heroes: Casio G-Shock Rangeman Special Rescue Ranger Watch
Not all Casio's collaborations are pop culture-related. The Rangeman Special Rescue Ranger was made to commemorate the 25th anniversary of the establishment of Kobe Fire Department's special emergency rescue team (it was established after the Great Hanshin-Awaji Earthquake of 1995) and is endorsed by the FD of both Kobe and Sendai, another city that was hit by a major natural disaster (the Great East Japan Earthquake of 2011). Sporting the colors of the firefighter gear and built to meet the demands of their superhuman hard work, this watch is as much a true tool of the firefighter's trade as it is a tribute to the brave men and women of the departments.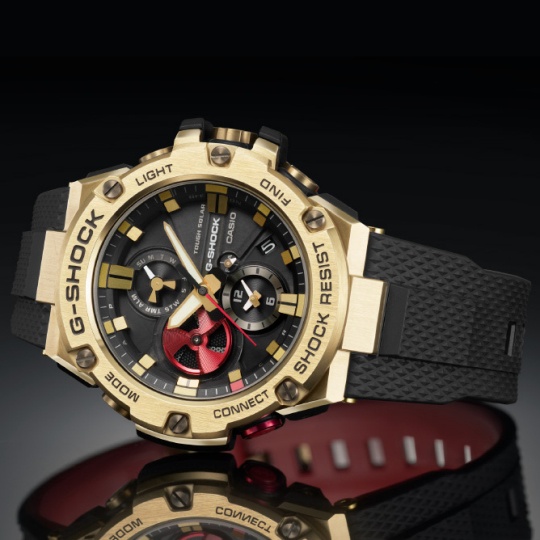 5. Heroes of the people: Casio G-Shock Rui Hachimura Signature Model GST-B100RH Watch
Not let the bling fool you: NBA star Rui Hachimura, one of just five basketball players from Japan who have made it to the most prestigious basketball league in the world, has really taken a hands-on role in designing his watch — and that's why you will always see it on his actual wrist. With several features around number eight (e.g., red accents on the index mark, button, and dial indicator at the 8 o'clock position) because the Japanese word for "eight" is "hachi" as in "Hachimura" and his jersey number, and a special logo made from the Japanese character for "eight" and a katana samurai sword this is truly a personalized watch that can be yours, too!
We only mentioned the unique design characteristics of these watches because their tech specs are too numerous to mention. Each watch is available at Japan Trend Shop, the leading source for buying Japanese products online, so you can look them up and see which fits your needs best. Besides their visual characteristics, they share Casio's quality mechanisms, shock and water resistance, and time-keeping precision, so you can be sure that what's inside will serve you for many, many years. And if you want more Casio watches, try an online search on Japan Trend Shop: there's lots more!