Bandai has created a communication robot based on the mechanical mascot robot that appears in the popular anime series Mobile Suit Gundam.
Showcased at this month's technology expo CEATEC Japan 2017, the Gundam Concierge Haro (Gansheruju Haro) robot is equipped with AI, speaker, and Bluetooth, which makes it able to converse and work in sync with a phone or other mobile device as well as function as an alarm clock.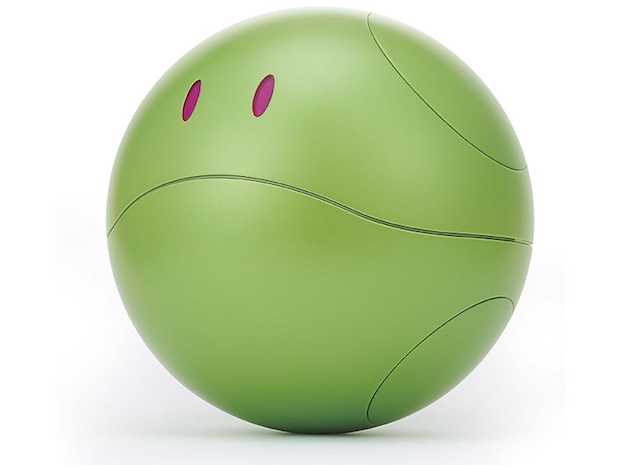 With a diameter of 19cm (7.5″) and LED lights for its eyes and mouth, it is set for release some time in 2018 for an undisclosed price. (Look out for it on Japan Trend Shop.) CEATEC runs from October 3rd to October 6th at Makuhari Messe, Chiba, and the new spherical robot is exhibited at the Bandai Namco booth.
In the series, Haro is a green companion that is about the size of a basketball. The actual interactive capabilities of the Bandai robot are not fully clear yet and it is unlikely to be able to communicate to the same level as the original Haro. At demonstrations for visitors to CEATEC, the robot was able to respond to questions about the Gundam series.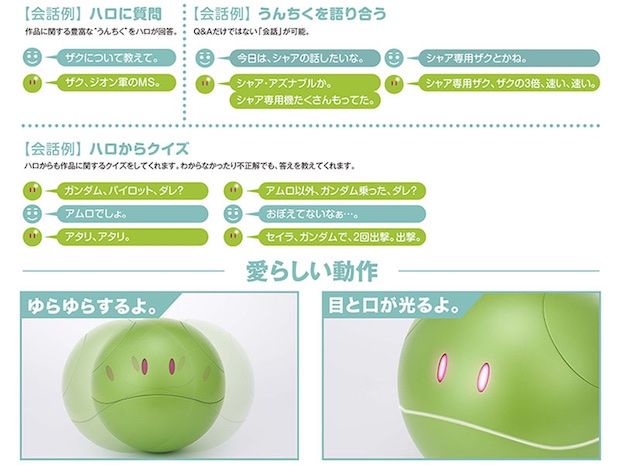 Developed in partnership with IBM Japan and VAIO, the robot is also able to express different emotions by color and flashing, and can move (or at least wobble or rock) left and right as well as up and down to some degree. However, it can't hover like the Haro from the actual series.
Gundam fans were recently rewarded with the return of a life-sized model of one of the series' iconic robots in the Odaiba district of Tokyo Bay as well as the news that Gundam will become a star virtual reality attraction at VR Zone Shinjuku.
Update: The Gundam Concierge Haro Robot is now available from Japan Trend Shop.