On New Year's Eve, the center of Shibuya was closed to traffic and people flocked to the area to welcome 2018.
Though it is more traditional to celebrate the arrival of the New Year by eating soba noodles with your family and watching Kohaku on television, followed by a visit to a shrine such as Meiji Shrine, this attempt to emulate the atmosphere of Times Square in Tokyo, which notably lacks such large plazas, has been growing in appeal for young people.
Shibuya's famous Scramble Crossing has become a popular site for such public gatherings in recent times, including Halloween and Christmas cosplay, and celebrations of sport victories. Though originally this was done without consent, the ward and police have now accepted it as a fact of life. Last year, the first official Shibuya countdown event was organized and attracted an estimated nearly 70,000 people. Since there were no major problems, it happened again on New Year's Eve 2017.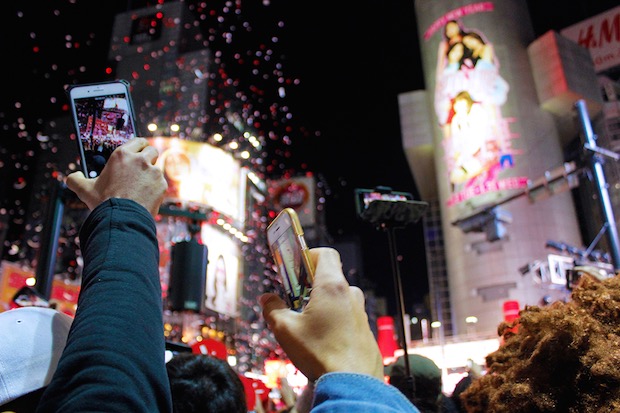 Coca-Cola sponsored the event and police carefully marshalled the festive crowds. Many things were banned, including glass bottles, fireworks, and drones, and the event was also stopped at the relatively early time of 2am. (Fortunately, trains run all night in Tokyo on New Year's Eve, since people often want to visit large shrines in the early hours of the morning.) Scramble Crossing and Center Gai, which incidentally had a serious fire during the afternoon of December 31st, are not designed for such huge crowds, so the crush was not always pleasant.
As might be expected, given the foreign style of the event, there was a disproportionate number of non-Japanese attendees, not least because the majority of Japanese people travel back to their hometowns for the New Year holiday rather than hang out in a deserted Tokyo.