Of the 83,000 people in the 23 wards of Tokyo who reached the legal age of adulthood in Japan this year, around 10,000 — or one in eight — is classified as foreign, reports NHK.
This is largely due to the increase in young immigrants in Japan studying or enrolled on the Technical Intern Training Program.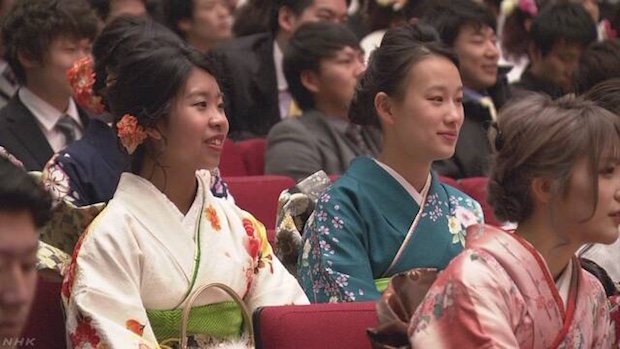 Reaching the age of 20 is celebrated annually of Coming of Age Day in January, where everyone who hit the milestone over the past year is invited to a ceremony. Attendees usually wear kimono, though some places are famous for their more radical approach to celebrating, such as by wearing elaborate costumes and tearing around the streets in cars.
The area with the highest number of non-Japanese people coming of age was Shinjuku with 1,700 people (accounting for 45.7% of the total people to reach adulthood in the ward), though this is not surprising per se. It is one of the most populous districts in Tokyo and is vibrantly multicultural, with a notable Korean neighborhood. People of all nationalities and backgrounds, for example, can be found employed, not always legally, in places like Kabukicho. Shinjuku is also home to many schools and colleges attended by foreign students. The second highest number was in Toshima ward. Ikebukuro is a well known hub for Chinese and other Asian minorities.
There has ben a 1.7-times increase in the number of non-Japanese people studying in Japan over the past five years. Current figures stand at just under 15,000. There has also been a parallel rise in the numbers of trainees, up to 6,600. The majority of these young people come from other Asian nations, particular China, Taiwan, and South Korea.
To deal with this new development, wards have sent out multi-lingual guidance to applicable non-Japanese people registered as residents. Some ceremonies even offered English interpretation.