These days, it's not uncommon to find matcha green tea in cookies, cakes and ice cream, but this might be a first for ramen. Yes, you read that correctly: for the Cup Noodle Matcha Seafood Flavor, the storied instant noodle maker Nissin is dressing up one of their most popular Cup Noodle flavors with the subtle yet unmistakable essence of matcha green tea.
Using Nissin's tried-and-true seafood flavor as a base, real matcha powder — the same kind served at tea ceremonies throughout Japan — gently enhances the rich and creamy soup without overwhelming the taste buds. But the best part have to be the noodles, which are also infused with matcha taking on a greenish hue reminiscent of cha-soba.
This latest offering comes in a wave of new, must-try Cup Noodle flavors. Indeed, Cup Noodle has seen something of a revival in recent years what with the opening of Yokohama's Cup Noodle Museum in 2011, soaring domestic sales, and increasing stock prices. It has yet to be seen if Matcha Seafood will disappear off the convenience store shelves as other specialty flavors like Tom Yung Koong have, but the novelty draw is certainly there.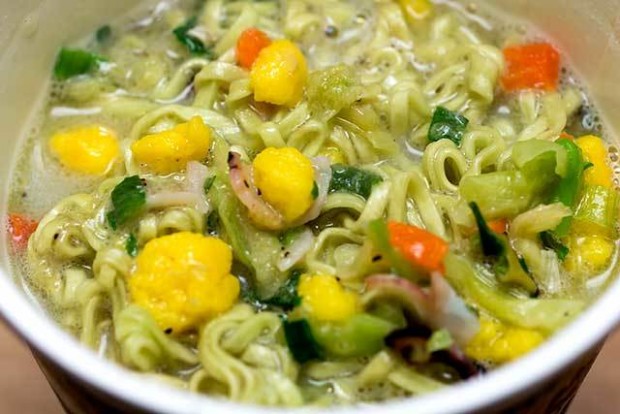 Matcha Seafood Cup Noodle is part of Nissin's limited-time "Japan Noodles" line, which also features Sukiyaki Donbei Udon and Ume Kobucha Yakisoba. The trio comes in notable packing decorated with charmingly quaint, ukiyoe-style images of Japan, including Mt Fuji, sumo wrestlers, and ninjas riding bicycles.