The popular anime franchise Evangelion is well know for creating all kind of Evangelion-themed products. To promote the DVD and Blu-Ray release of the latest movie Evangelion: 3.0 You Can (Not) Redo on April 24th, another collaboration campaign started one month ago.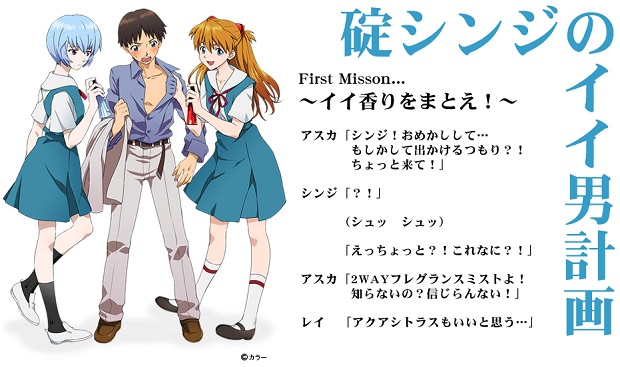 On March 25th the cosmetics brand Creer Beaute released a new line of three special scented sprays which are based on three main characters Ayanami Rei, Ikari Shinji and Asuka Langley. The EVANGELION 2WAY fragrance mist for men is said to make them irresistible to the ladies.
The perfume comes in a stylish 110ml bottle for ¥1,280. Even if you are not a fan of Evangelion this amazing product is worth a try.
Each scent has three elements, a "top", "middle" and "last".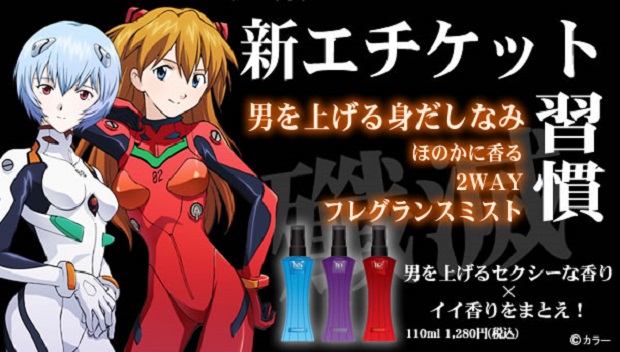 TYPE-R (fragrance of the aqua citrus) is the fragrance reflecting the image of Ayanami Rei, erasing her her sadness and painfulness by this refreshing perfume
The top: grapefruit, raspberry, coconut
A middle: jasmine, a ylang-ylang, rose and oceanaut
The last: musk, vanilla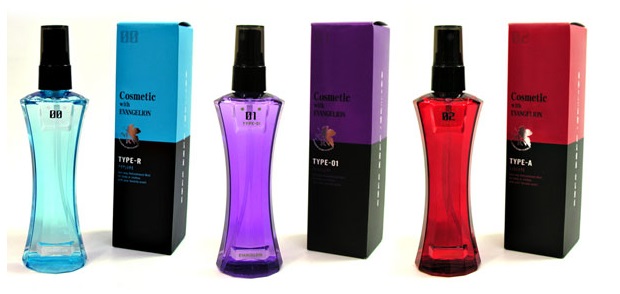 TYPE-01 (fragrance of the fresh musk) is a spicy fragrance inspired by Ikari Shinji
The top: bergamot, lemon, green
A middle: nutmeg, spice of the paper, lilac
The last: woody, umber, musk
TYPE-A (fragrance of the red citrus) is the fragrance of Asuka Langley. Just like her character the perfume fuses passion and sweetness
The top: orange, lychee, apple
A middle: rose, jasmine, cyclamen
The last: musk, umber