A new documentary about the world's largest fish market is released in movie theaters in Japan next month.
Tsukji Wonderland goes on general release from October 15th, shortly before the 80-year-old market was set to relocate. The move has recently been postponed, which has the unfortunate effect of spoiling the whole marketing angle of the film.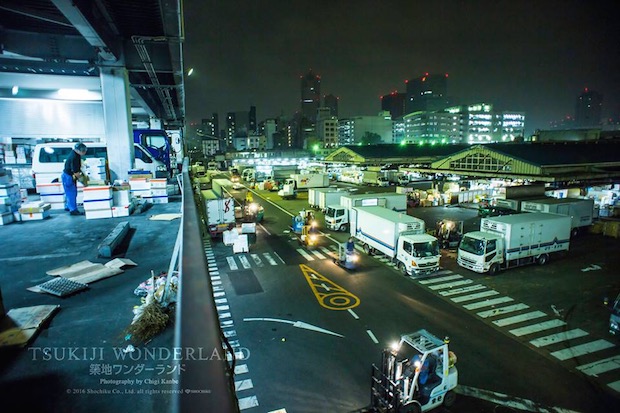 Presented as the "unknown story" of the market — a bold claim considering how much coverage Tsukiji has received over the decades — and filmed over 16 months, it purports to show an insider's view into the "sacred" and "mysterious" world of Tsukiji Market, which sees 1,800 tons of marine products pass through it per day along with 42,000 users. It features both the people working in the market itself as well as top chefs (yes, Jiro Ono is in it) and various experts, all waxing lyrical about the market just as it embarks on a new chapter in its history.
So far, so very eulogizing. "Not only the best in the world, it's the only one in the world," as one talking head puts it. While the venerating tone of the trailer (and possibly the actual film) certainly grates, the timing of the documentary couldn't be more apposite.
Whether you are a foodie or not, Tsukiji is one of the hot topics in Tokyo right now. At the end of August, the newly elected governor of Tokyo, Yuriko Koike, put the controversial move of the fish market on ice. Tsukiji Market was set to relocate to another site in November, with the current site occupied by the market to become the press center for the 2020 Olympics.
However, the move to the larger site — a former gas plant — has been plagued by accusations of toxic contamination and escalating costs, which are now some 36% higher than originally estimated. The site in Toyosu is also less central than the current Tsukiji Market, only a short distance from the Ginza area.
Koike has postponed the move until at least early next year to wait for final groundwater testing to be completed. The delay, however, has a knock-on effect on construction in the bay area for the Olympics facilities. The Tokyo government has also already spent a vast amount on clean-up operations and the delay will apparently cost millions of yen per day. Who knows what is currently being said in the corridors of power right now as the new governor faces off against construction industry lobby groups, politicos, and angry fish industry bods. Wouldn't that make for a fascinating documentary?