The Furoshiki Shoes are just brilliant: a combination of old and new in the very best sort of way.
These wrap-around sole footwear are designed by Masaya Hashimoto for Italian brand Vibram, inspired by the traditional Japanese furoshiki wrapping cloth that has been used as a bag for carrying things like clothing or a bento for centuries.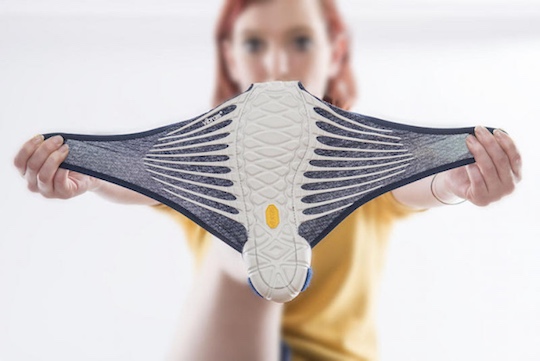 The durable, multi-size, "wrap-around sole" adapts perfectly to the foot with its special ergonomic bands that adhere to the ankle. This provides freedom to move, comfort, and plenty of style to boot!
There are five designs: jeans, aqua, black, violet, and pearls (orange). The color variations also come in a choice of three sizes.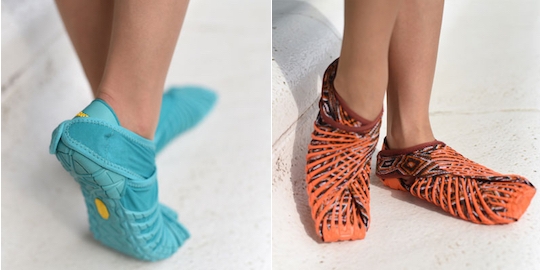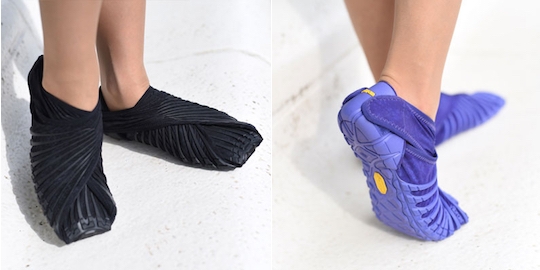 Of course, the Furoshiki Shoes remind us instantly of Tabio. That brand has very successfully taken wardrobe items with a Japanese feel and made them into something pop and cosmopolitan, specifically tabi socks. Tabio's range is now very extensive, including five-toe socks (popular in Japan) and more. They now have branches in Japan, France and the UK.
Similarly, jiki-tabi, a kind of boot version of tabi with rubber soles, have also become "hip" again in recent years, as have fundoshi undergarments, as we reported before.