The public's (and tourists') appetite for wacky accommodation experiences continues unabated, it seems, as Henn na Hotel has announced a major expansion.
The Sasebo-based hotel, which is ostensibly fronted by robotic staff of receptionists and concierges, such as a dinosaur "manning" the reception, opened in Huis Ten Bosch theme park in 2015.
It then opened a branch near Tokyo Disney Resort, which is actually located in Urayasu in neighboring Chiba Prefecture, in March and then a third site at Gamagori in Aichi Prefecture in August.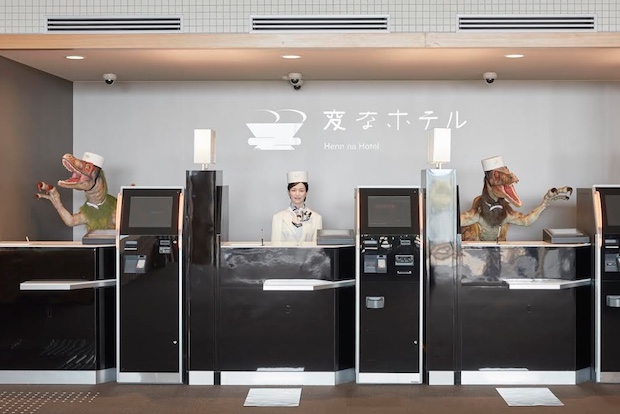 Emboldened by an occupancy rate of around 90%, Henn na Hotel ("weird hotel") will open five further locations in Tokyo within a year.
The first locations announced are the central districts of Akasaka and Hamamatsucho, which host many offices as well as hotels due to their convenience access. This is a major undertaking for travel company HIS, which runs the hotel chain, and so the new metropolitan branches will actually be franchises managed by other operators. Though inbound tourism will surely keep on booming as we draw closer to the 2020 Olympics, it remains to be seen whether or not Tokyo visitors want to stay at such a gimmicky hotel. That being said, the Robot Restaurant in Shinjuku remains extremely popular with foreign tourists, so there is clearly a large market for kitsch experiences.
HIS also has plans for two locations in Osaka as well as openings in Fukuoka, Taiwan and Shanghai some time in the future.
In addition, the original hotel in Sasebo will be expanded with a third wing, set to open next July. It will further improve its energy efficiency — the hotels are conceived not just as robotically run but also as environmentally friendly — with the latest solar panels and storage batteries. The number of rooms will increase from 144 to 200, which, perhaps to better accommodate the needs of guests from overseas, will include Japanese-style rooms. The number of robot employees will also go up, such as a new "robot bar" featuring a robot that can make cocktails. The number of human employees, however, will remain unchanged at its current modest number of seven.