The bubble tea fad looks set to continue with the opening of a tapioca "theme park" in the Harajuku area of central Tokyo from August to September.
Tokyo Tapioca Land will appear inside the commercial complex jing, which is located near Harajuku Station. Conjuring up a "tapioca land of dreams," it will feature four vendor booths selling tapioca food and drink, and events and tie-ups with celebrities, too. There are also "tapioca drink monuments" and a photo booth in the venue, hoping to satisfy the need for Instagrammable snapshots.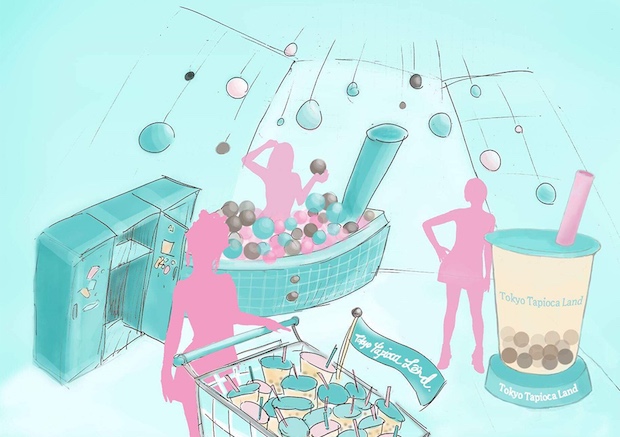 It will be open from August 13th to September 16th. Admission costs ¥1,000 in advance or ¥1,200 on the door, though this includes a tapioca drink and elementary school students and younger are free.
Have we now reached peak tapioca?
The bubble tea craze has exploded in Japan, resulting in long lines at shops and stalls selling cups of the colorful drink to eager youngsters with Instagram accounts to fill.
Tapioca first appeared in Taiwan decades ago and has been around in Japan, too, for many years, though it has quite suddenly become the favorite drink of young women — thanks, in part, to its viral-friendly vibrant look rather than the sudden acquire tasted for the actual starch extract tapioca balls. Previously relegated to China Town, convenience stores, and a relatively small smattering of other vendors around the city, Tokyo now has a growing number of restaurants, cafes, stores, and stands specializing in delicious bubble tea.
It is certainly the key beverage trend of 2019 and the popularity has now reached such an extent that suppliers are struggling to meet the demand.
Inevitably there has been a social media backlash, though its impact has proved negligible. The newly announced Tokyo Tapioca Land also met with a reaction on social media that seemed to veer from enthusiasm to outright cynicism.
One side effect of the boom, though, is the problem of waste and littering around the vendors, since lots of plastic cups and straws means lots of trash and often nowhere to put it (public trash cans are few and far between in Tokyo).
And inevitably we have seen the spin-offs: official Pokemon tapioca, tapioca ramen, and even tapioca beer.