Japan continues to negotiate its relationship with drones. Just fun toys or dangerous tools?
Until spring this year, drones were perhaps most famous in Japan as a way to get cool aerial shots, such as OK Go's Japan-inspired "I Won't Let You Down" music video.
The rest of 2015, though, saw a series of major incidents involving drones in Japan, so much so "drone" was selected as one of the top ten buzzwords of the year.
The largest amount of publicity came in April, when a drone was found on the Prime Minister's official residence, having landed there a week before. It was flown onto the roof as a protest against Shinzo Abe's policies of restarting nuclear power plants in Japan, and contained mildly radioactive sand from Fukushima. The culprit, a 40-year-old man from Fukui Prefecture (home to several nuclear power plants), later turned himself into police and was arrested.
Then in May, the media exploded with multiple reports over a prank-loving teenager, who had landed a drone at Zenkoji Temple in Nagano, as well as made other drone flights in tourist areas and near the Japanese parliament. When he made an online video promising to fly his drone at the crowded Sanja Matsuri in Asakusa, Tokyo, the police reacted: the 15-year-old was arrested.
According to current laws, a drone cannot fly at a height of over 150 meters or in populated areas. The government responded to the incidents by making moves to ban drones from Tokyo airspace.
While Tokyo becomes a no-fly zone, recent deregulation has allowed the likes of Amazon Japan to use drones to deliver medical goods and other items in a specially designated district in Chiba City. The area is just 10km from the Amazon depot. If the test is successful, soon drones may be replacing Kuroneko Yamato staff in bringing deliveries, though don't expect this service to be available in central Tokyo any time soon.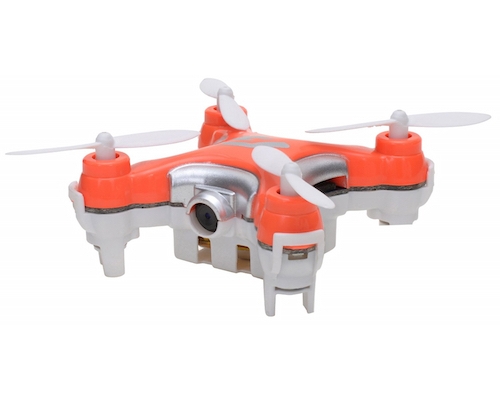 Politics and security fears aside, Japanese manufacturers and retailers love drones. Take the G-Force PXY CAM Quadcopter, which claims to be the world's smallest camera-fitted drone.
The fun side of drones was shown off again recently in an inventively cheeky ad for Buyma. A Kind Drone, as the campaign was titled, had perfectly piloted and timed drones cover the modesty of naked dancers.
Meanwhile, for Europeans and North Americans, the word "drone" has come more and more to be associated with state-sponsored assassinations and attacks on Islamic State and other targets. (All the laws against civilian use of drones in Japan don't apply to the government: Shinzo Abe has purchased US-made Global Hawk military drones as part of its extensive program of defense budget increases.)
The Japanese police, at any rate, also seem to view drones with suspicion and a possible terrorist weapon, so much so they have deployed special new tactics to apprehend any rouge drones that enter airspace over Tokyo or sites like nuclear power plants and airports. Ironically, the tactics involves drones: a squad of four of them, in fact, which are able to neutralize the drone threat by catching it in a special net.
And so whither drones in 2016? With the G7 Summit happening in Ise Prefecture in May, expect anti-drone security measures to be beefed up even further.