Japanese drivers will be celebrating the Tokyo 2020 Olympics on their cars with special license plates.
All the boxes have been ticked here. Mt Fuji? Yes. Cherry blossom? Yes. Perhaps the only stereotypically "Japanese" image that is missing is a geisha.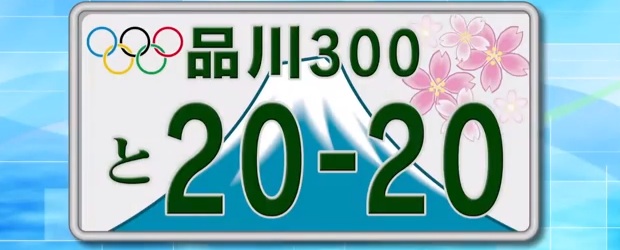 If the 1964 Olympics are anything to go by, design should be paramount to the Games… and design also means merchandising. Get ready for mountains of toys, stationery, souvenirs, memorabilia and more… all with the Olympic logo.
The announcement of the special car license plates is merely the first step towards the national fanfare with which the Games will be prepared. Apparently it is the first time such a special car license plate will be made in Japan; they are usually very simple affairs in Japan. However, the images shown in this news report are only suggestions based on what officials have described. No formal designs have been released yet.
While we are certainly curious to see what the official mascot and logo design will be like, things don't bode too well for the mentality of the Games organizers, though.
The executive committee behind the Games is populated almost entirely by men of pensioner age.
Former Prime Minister Yoshi Mori (76) is one of the most senior — both in rank and age. He recently made a real gaff — in a long career of gaffs — by giving World War Two as a reason why he never learnt English, despite being the head of state of the world's second biggest economy at the time. He had been asked at a news conference if only-Japanese-speaking men all of a certain age was the right image to give out at such an international and prestigious event as the Olympics.
"I was in second grade when the war ended and until then, English was considered the enemy's language," Mori apparently said.
Well, I hope he leaves his weapons at home come 2020's opening ceremony.