This article by Frances Maeda first appeared on Tokyo Cheapo.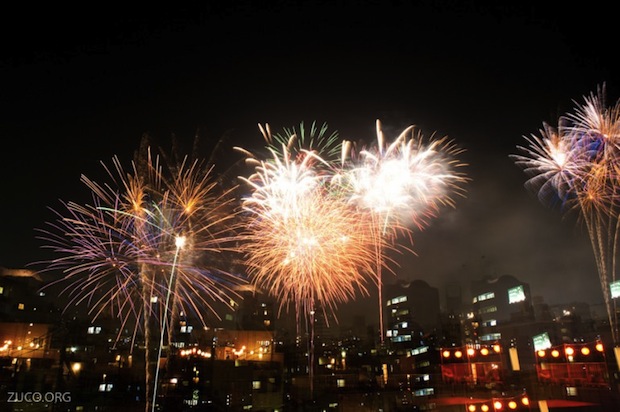 Sumida River Fireworks Festival. Pic by Tokyo Times, used under a Creative Commons licence.
If you're in or near Tokyo this summer, you don't want to miss these events. The season starts with a bang, as fireworks festivals explode around the city from late-July to the end of August. You'll find that the Samba Carnival in Asakusa is one of the hottest things in the city (next to the temperatures), closely rivalled by the mega dance event that is Super Yosakoi. Keen on checking out one of the three great Shinto festivals of Tokyo? How about a huge comic event? Scrap your expensive travel plans – Tokyo has all you need for a sizzling summer.
1. Fireworks Festivals: Late July – End of August

Pic by Taro Yamamoto, used under a Creative Commons licence.
While summer might not have a distinctive floral marker (except maybe for the sunflower) like other seasons in Japan do, it does have a whole lot of "fire flowers", a direct translation of the Japanese word for fireworks, hanabi. Some of the bigger fireworks festivals include those in Kamakura and Tamagawa, as well as the Jingugaien Fireworks Festival, which takes place at the Jingu Stadium, and the Edogawa Hanabi Taikai. The two mega events, however, are the Tokyo Bay Fireworks Festival — an 80-minute celebration of 12,000 fireworks, and the Sumidagawa Fireworks Festival — an intensely crowded event featuring 90 minutes of blasts and roughly a million people.
Other noteworthy shows include ones in Showa Kinen Park, Hachioji, Itabashi and Katsushika City. Don your summer kimono (yukata), grab some cheap beer and enjoy the shows.
2. Fukagawa Festival: August 13th-17th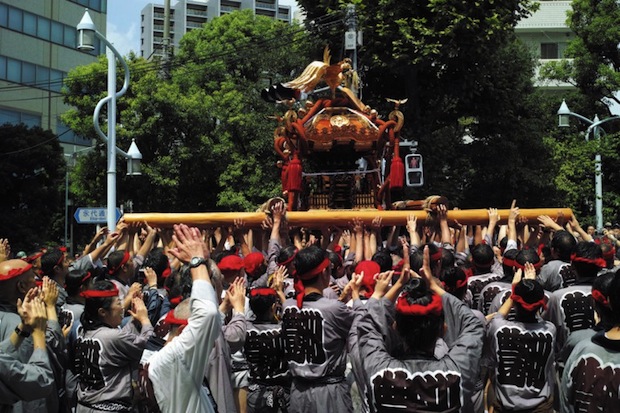 Pic by Hamachi, used under a Creative Commons licence.
Along with the Kanda Matsuri and Sanno Matsuri, the Fukagawa Festival is one of the three big Shinto festivals of Tokyo. The event is probably most famous for its gigantic water fight-slash-procession, which only happens every third year — the good news is this year is one of those years! The last time that the hon matsuri, or "proper festival" version (with the drenching part) took place was 2012 — originally it was scheduled for 2011, but due to the earthquake, it was postponed. The organisers decided to stick to the original schedule for 2014 though, which means that the next watery affair will only take place in 2017. The idea behind the splashing and spraying is that the water is purifying — but on a practical level, it also cools the participants down.
You can expect a grand parade of 120 portable shrines, or mikoshi, with some huge ones in the mix. There will be taiko drumming, music and more. The festival, believed to have started in 1642, is centered around Tomioka Hachiman Shrine, which was built in 1627.
3. Comiket 2014: August 15th-17th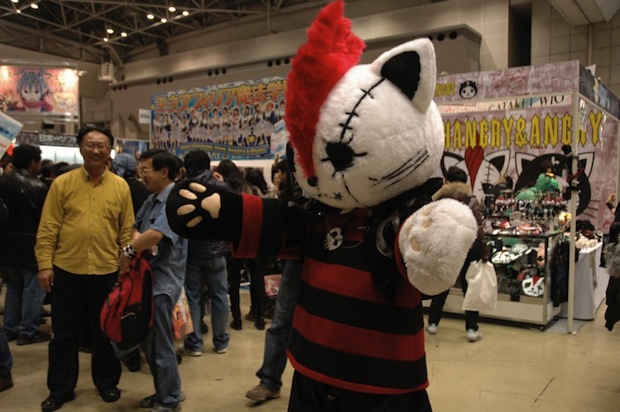 Pic by jeriaska, used under a Creative Commons licence.
Tokyo's Comiket, or "Comic Market" is a celebration of all things comic-related, regularly attracting crowds of over 500,000 people. Tens of thousands of manga artists sell their self-published dojinsha (independent) works, with a huge variety of genres and styles on offer. You can pick up some pretty rare stuff, and some people later flog their finds on internet auction sites.
Entrance to Comiket is free, unless you want to dress up — cosplaying will cost you ¥800. You can expect a fair few wacky outfits in addition to incredibly detailed representations of characters from manga and anime.
This is one event where arriving late is better than getting there early — to avoid lengthy queues, those in the know advise arriving around noon. The next Comiket will take place in winter and is a slightly smaller event than the summer version.
4. 33rd Asakusa Samba Carnival: August 23rd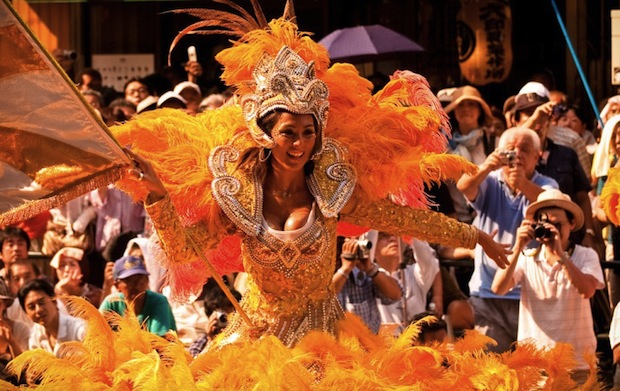 Pic by Chen Qu, used under a Creative Commons licence.
Gaining immense popularity over the years, the Asakusa Samba Carnival has become one of Tokyo's major summer festivals. The event sees 18 teams compete for the carnival title, with samba floats, drummers and, of course, lots of dancers with minuscule and or colourful costumes, and enormous feathered head dresses. Prepare to jostle your way through masses of telephoto lenses! The carnival kicks off at 1pm and should be all over by 6pm.
If you're keen for a taste of what to expect (as well as lots of tasty Brazilian food), check out the Brazilian Day celebrations at Yoyogi Park on July 19-20th.
5. Super Yosakoi 2014: August 23rd-24th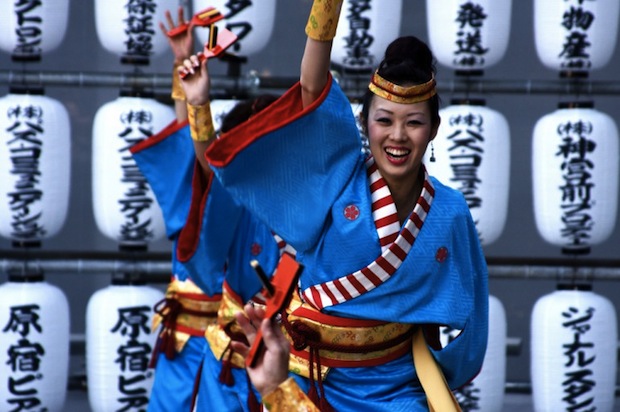 Pic by முதல் அ வரை, used under a Creative Commons licence.
If you've ever wanted to see authentic Japanese dance, this is a fantastic event to check out. 6,000 dancers in teams from all over the country compete annually in the Super Yosakoi dance contest, with colourful costumes and impressive moves. The atmosphere in Harajuku and Omotesando is electric, with stage performances as well as mammoth 5-8 hour parades.
The yosakoi dance originated in Kochi Prefecture in 1954 as a modern take on traditional summer dance. One of its defining characteristics is the use of small wooden clappers called naruko, originally used to scare birds away from rice fields. Dancers often use other props too, like drums and banners.
Check out the Cheapo Weekend every Thursday for more budget-friendly events!