After teasing us with a preview and some hilarious-looking images, the first SoftBank commercials in the Justin Bieber "super student" campaign have finally been released.
It features the Canadian pop star soulfully singing his song "What Do You Mean?" into a Japanese school tannoy system, sending the students (including actress Suzu Hirose, who fronts the overall campaign for SoftBank) into something bordering on hysteria.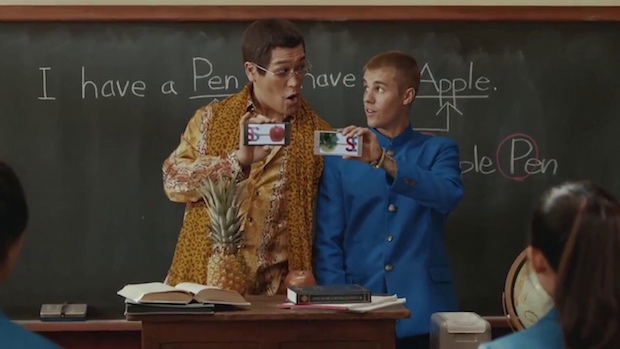 In the 30-second ad, Bieber is dressed like a typical school student in Japan and finishes off by turning to the camera to say "gakuwatteru" (student discount) in Japanese. Numerous other SoftBank marketing regulars also feature in the ad, such as Aya Ueto and the Otosan white dog, who has become something of a pop culture icon in Japan.
In the next, 60-second ad Justin Bieber is seen walking around the school and greeting other "super students". He then visits Piko Taro's "English" class to do some funny PPAP-inspired business with two phones.
Unfortunately the commercial does not seem to be available for viewing in certain territories outside Asia.
It is also worth noting that Bieber's tattoos are in plain view, adding another mainstream example that may contribute one day towards demolishing the prejudice against tattoos in Japan at public bathing sites. Perhaps one day, hopefully before hundreds of thousands of extra foreigners descend on Tokyo in 2020.