Many people think it's a recent thing but the truth is Barbie, arguably the world's most famous doll, has been controversial ever since it first appeared in toy stores, way back in 1959. The cultural reevaluation of the 1960s wasn't exactly the perfect place for "Miss Perfect" and debates about her impossibly thin figure, her whiteness, and her function as a role model have continued throughout the 61 years of her existence. But after going through countless transformations to embrace diversity in race, abilities, and careers, Barbie remains popular all over the world. Even more so in Japan, where issues like gender and diversity are still somewhat, let's be honest, lacking.
As a matter of fact, Barbie has been popular enough in Japan to inspire two local spins. One is Jenny — aka "Takara Barbie," because Takara, one of the top Japanese toy makers, made her under a licensing agreement with Mattel for the first four years of her life back in the early-mid 1980s — and the other is Licca-chan, also made by Takara but back in 1967, and obviously based on its famous American counterpart. Both Jenny and Licca-chan are designed to appeal to Japanese consumers' aesthetics and tastes (which basically means they look like manga characters) but the breadth of designs, outfits, and accessories you'd expect from a Barbie-like doll is all there – and so is the attention to detail you'd expect from a Japanese, well, anything.
Still, Barbie is and will remain always Barbie and she couldn't be absent from Tokyo's great-event-that-would-have-happened-but-didn't-but-hopefully-will-still-happen Olympics. Not one, but two Barbie dolls have appeared to celebrate the second Summer Olympics to be hosted by Japan's capital and, quite appropriately, they are themed after two of the sports that will be included in the Olympics for the first time in Tokyo — karate and sport climbing — and, for the cherry (or rather, the anko red bean) on top, which Japan has female athletes with very good chances of winning medals in both competitions.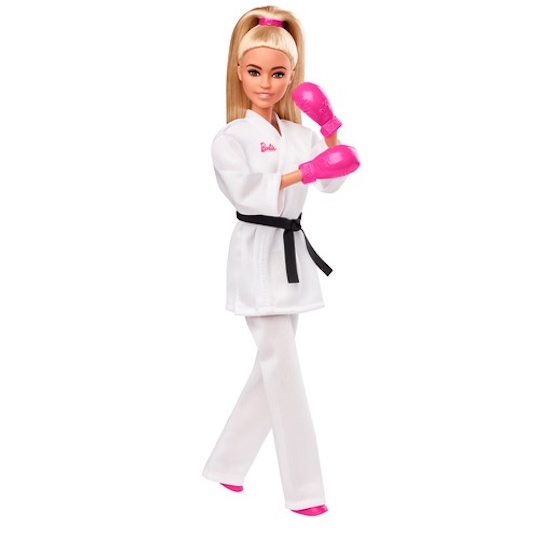 Since the 1964 Tokyo Olympics and the introduction of judo, the world of martial arts/fighting sports has been discussing what would be next. The answer came in 2000 with the Sydney Games — and it was taekwondo. But karate was always on the table and the sport will make its debut with the the Tokyo Olympics, currently scheduled for six months from now, provided we'll be living in a post-Covid-19 world. The Karate Barbie, though, is up to the challenge with her white karate-gi, black belt, hand and feet protectors, plus a Tokyo Olympics' logo jersey and a gold medal. And like all Barbie dolls, she can be posed in many different ways, so you can have fun bringing to life the characteristic postures from karate's many kata (forms).
The Sport Climbing Barbie is even more versatile and, in a Tokyo 2020 top, shorts, and climbing shoes, way more fashion-conscious. She too comes with a Tokyo Olympics logo jersey, apparently the official uniform of the Tokyo 2020 Barbie team, but also with a full climbing kit including rope, belay, harness, quickdraws, and a chalk bag, allowing you to create a whole climbing indoors or outdoors adventure for her. And, like her karateka teammate, she also has a gold medal so you can reward her when she reaches the top!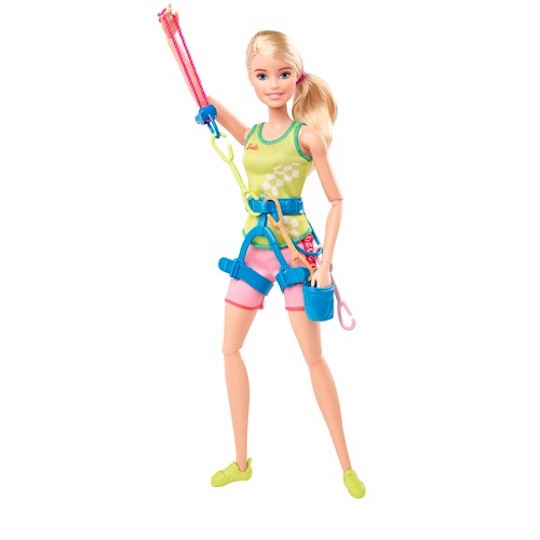 So there you have it: two brand new Barbies, both available from Japan Trend Shop and ready to be delivered anywhere. If you are a Barbie collector, a fan of karate or sports climbing, or just love unique Olympics memorabilia, these dolls are definitely for you. And if you want even more Tokyo 2020 items, Japan Trend Shop has almost a hundred!