The old capital of Kyoto is associated first and foremost with classical culture, but what about androids?
The temple Kodaiji in Kyoto has installed Mindar, the world's first android version of Guanyin (known in Japanese as Kannon).
On display from March 8th to May 6th at a hall inside the temple, Mindar is a representation of the female Bodhisattva commonly called the Goddess of Mercy.
Unveiled on February 23rd, Mindar preaches Buddhist scriptures. The android was developed at a cost of ¥100 million ($909,090) by Kodaiji with Osaka University, whose Professor Hiroshi Ishiguro is a leading pioneer in robotics, and is said to be the first of its kind. With a camera installed inside its left eye, Mindar stands around 1.95 meters (6.4 feet), including a base, and features a meek-looking facial appearance that combines rather incongruously with the exposed mechanical parts.
Mindar answers people's questions that are projected onto the wall, which the robot then develops into Buddhist sermons based on the Heart Sutras. English and Chinese translations are also projected on the wall.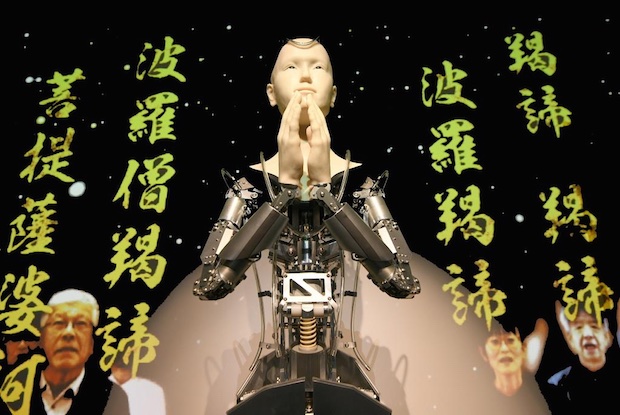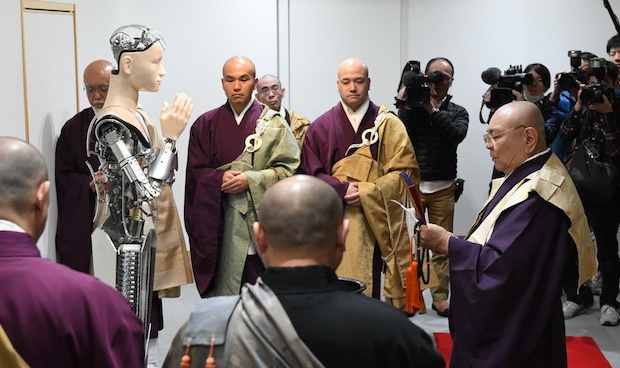 Kodaiji, which was first built by the wife of 16th-century warlord Toyotomi Hideyoshi, is no stranger to using gimmicks and technology to attract visitors. In 2017, it presented an exhibition with 3D projection mapping of famous images of the Night Parade of One Hundred Demons. Likewise, another Kyoto temple, Kiyomizu-dera, resorted to hosting Star Wars folding screens in an effort to keep the crowds coming.
In Japan, people's attitudes towards religion are often loose and what might seem somewhat sacrilegious in the context of monotheistic cultures is often tolerated.
Images via The Sankei Shimbun