All year Japan has been going Star Wars crazy, not least because a certain film sequel is about to be unleashed on the world box office.
This has lead to a slew of products and tie-ups. Some of these have been very ambitious, starting with the Star Wars-themed ANA airliners and a $37,000 Battle Pod.
But as promos go, this is pretty hard to top.
Now Disney have teamed up with the monks at Kiyomizu Temple, Kyoto, to produce a special Star Wars: The Force Awakens version of the classic Wind God and Thunder God folding screens, a National Treasure by Tawaraya Sotatsu. The 17th-century panels have since reappeared in constant art and cultural works over the centuries.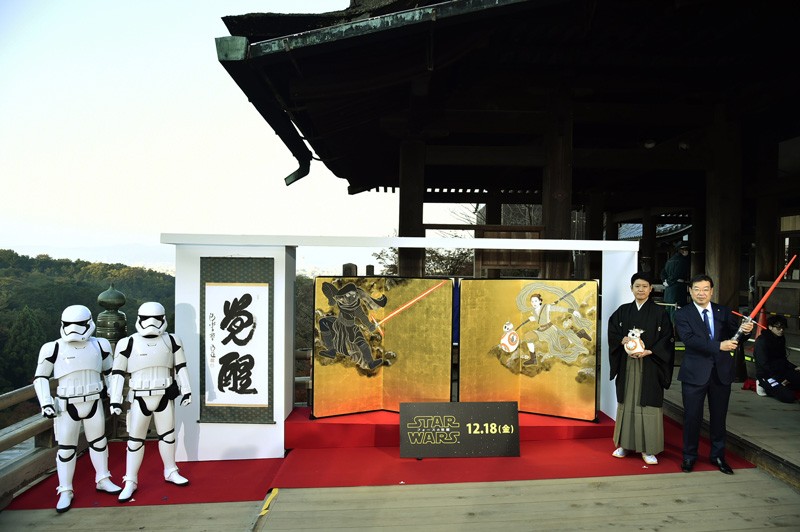 The screens have been created by artist Taro Yamamoto, who styles his work "Nipponga" (literally, "Japanese painting", a riff on the Nihonga genre).
This is the original.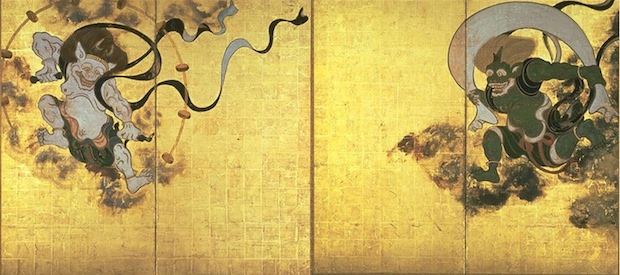 And here is new Star Wars: The Force Awakens version.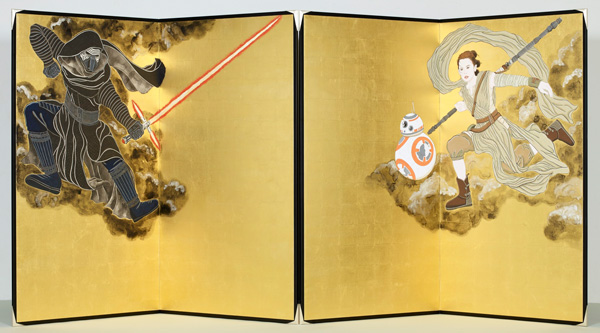 Rey is recast as Fujin, the Wind God, complete with her faithful droid BB-8. Villain Kylo Ren is Raijin, the Thunder God.
We're not sure if a Christian or other religious place of worship would be so willing to cooperate with this kind of promo in another part of the world. But apparently Buddhists in Japan are happy to participate if it brings in the crowds.
The Tawaraya Sotatsu screens are enduring examples of the Rimpa (or Rinpa) School, which is celebrating 400 years in Kyoto this year. As such, Kyoto Governor Keiji Yamada was on hand to help unveil the Star Wars folding screens yesterday (with a couple of Stormtroopers for support, so we're not sure what side of the Force he works for!).
The Star Wars screens are on display at Kiyomizu Temple, Kyoto, from December 8th-15th, followed by an exhibit in Tokyo at Nippon Television Tower in Shiodome from December 18th-29th.
Star Wars: The Force Awakens goes on release in Japan and worldwide from December 18th.