We think this might be one of the most original and ingenious beauty tools we've seen yet.
And that's saying a lot.
Japan is a nation that has produced a serious wealth of beauty items, from hi-tech examples like the Panasonic skin care moisturizing steamer masks to the frankly wacky face gadgets like the Face Slimmer Exercise Mouthpiece, plus incredibly innovative face packs.
To be fair, it's the anti-aging beauty tools that look the most outlandish, though that doesn't mean they aren't effective.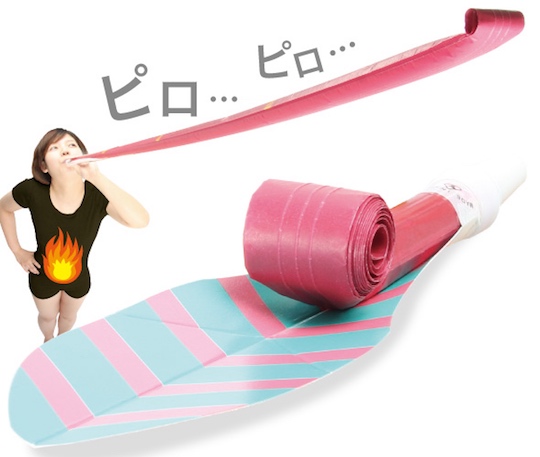 The best thing about the Long Piropiro Lung Exercise Tool, though, is how simple it is.
All you do is blow.
This exercises your chest and helps increase lung capacity over time. Your physique will be gradually strengthened just by blowing on the tool ten times a day.
It stretches up to 1 meter so it's actually hard work to blow it fully out ten times in a row. Markings along the party horn-like tube show you how far you've achieved. But don't bring it to kids' parties, though, since it doesn't make any fun noises.
The name comes from the alternative name in Japanese for a party blower or party horn. Strictly speaking they are called a fukimodoshi but kids also call them piropiro.