Everyone knows that Japan has a lot of dolls: from luxury silicone sex dolls to Licca-chan and Hinamatsuri Festival dolls.
Kigurumi is a kind of cosplay or costume play where participants dress up in full-body costumes, sometimes with anime-style masks (known as animegao kigurumi) or furry suits. If you've ever wanted to become a mascot and really embody the role, then this is the subculture for you.
But can it be fashion, too?
A younger designer called Hitomi Komaki thinks so. She has created Lulu Hashimoto, a "living doll" fashion model.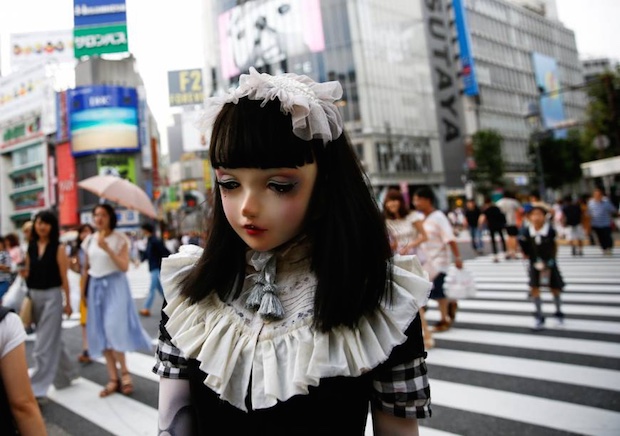 This prototype may well find itself presented by some as the latest example of "wacky Japan" clickbait or Harajuku street fashion gone mad, but it's actually an innovative and intriguing development. Lulu is a full-body doll suit with a wig, mask and stockings. And "she" is the perfect solution for anyone who has ever wanted to become cute in that uniquely 2D style that lingers somewhere within the uncanny valley where many androids and robots are also consigned.
Creepy or kawaii? The jury may be still be out but Komaki sees potential for this as a product where you can move around in a "human" way but take on a doll-like character for enhancing your cuteness (while also maintaining anonymity). The stockings, which were co-created by fashion designer Koh Ueno, even have airbrushed doll-like joints, further cementing the strange fusion of doll and person in the suit.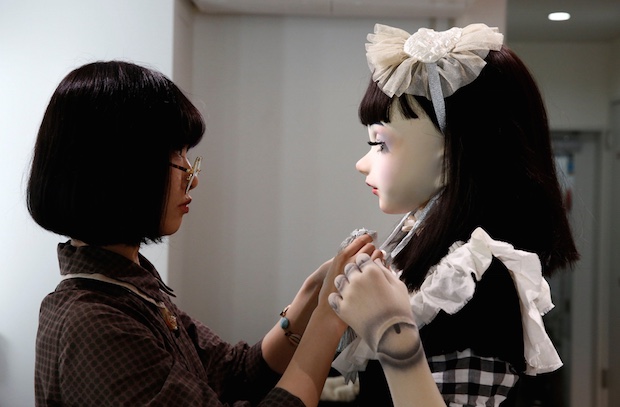 "Many people call my project a fetish, though for me it's not a fetish but fashion," she says. "It's like wearing nice clothes or putting on false eyelashes to become cuter."
"I want to see women wear these stockings and transform," says 29-year-old Ueno. "I want them to experience the extraordinary — to become otherworldly, artificial, or like a doll."
This kind of costume is a familiar one to fetishists and Harajuku subculturalists, but Lulu has broken out into the maintream with a recent Reuters article and making the semi-final at the annual Miss iD beauty pageant, whose winner is announced in November.
"I find it miraculous that dolls and humans — two things that exist in different planes — are standing in the same space," said one fan.
"I'd like to be a beautiful girl like Lulu at least once in my life," another commented.
Lulu already has a large following online, too, with nearly 24,000 Twitter followers.
If Lulu's growing fame means she gets made into a regularly available commercial product, perhaps we will start seeing her around a lot more on the streets of Tokyo.