The design studio nendo has produced a series of coffee capsule-style vending machines for a pop-up self-serve cafe in Roppongi.
Visitors to the chic Gacha Gacha Coffee on the Roppongi Hills' Tokyo City Sky Gallery observation deck, which is open until mid-November, can purchase a capsule made by nendo for ¥500. The twelve machines offer five different types of coffee beans along with a sixth, "secret" blend.
Upon choosing and buying a capsule, visitors serve themselves by opening it up and pouring the beans from the bag into another machine for grinding. (Before this, they should dispose of the used plastic capsule and bag in separate places.) The ground beans are dispensed into a paperless dripper, which the diligent visitor then takes and slots into a third machine for the water. First, though, the patron must take a paper coffee cup and set it in place under the dripper, and then select "express" or "rich" from the touch panel. The hot water pours through the dripper to filter the coffee and, after putting a plastic lid on the cup, the visitor finally has his or her cup of joe to enjoy while taking in the great views of Tokyo from the Roppongi Hills.
If this all sounds like quite an elaborate and time-consuming process, that's probably because it is.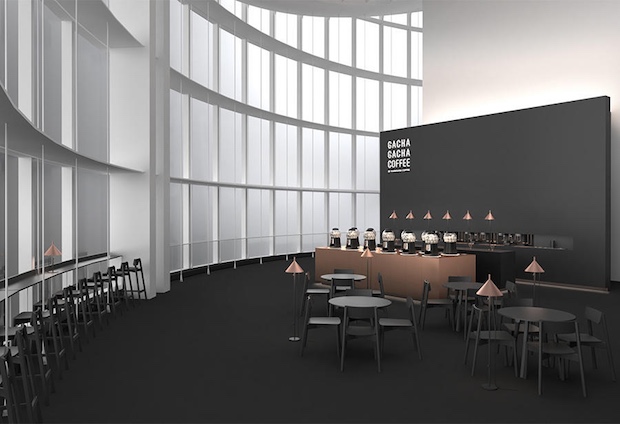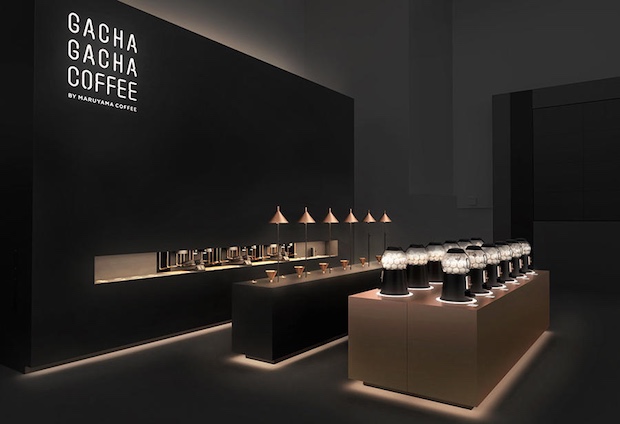 Gacha gacha, also known as gashapon or gachapon, are types of vending machines that dispense large capsules usually containing a collectible toy. They originated with the American gumball vending machines imported to Japan in the 1960s.
This actually isn't the first time that nendo has designed gacha gacha capsules. In 2018, the studio created a series of figures and a special vending machine in collaboration with Kaiyodo.
Alongside this coffee venture, nendo has recently turned to the Japanese tradition of bonsai, creating the Grid-Bonsai project. In an endeavor that will possibly horrify purists but delight minimalists, the project is a series of customizable bonsai sculptures made with white plastic instead of actual plants.