Christmas and New Year are over, so it's already time to look towards the next big public (and commercial) holiday: Valentine's Day.
Regular readers will know that February 14th in Japan is a bit different, since traditionally on that day it is the women who give chocolate to the men, who then reciprocate on March 14th (known as White Day).
Quirks like that aside, Japanese retailers and chocolatiers pull out all the stops for the two dates, so you will see lots of interesting takes on the usual box of chocolates. This is concurrent with the growing trend we are seeing in Japan for luxury and bean-to-bar chocolate.
Nendo, the design unit led by Oki Sato, has teamed up with BbyB., which sells gourmet Belgium chocolate crafted by Michelin-star chef Bart Desmidt and master chocolatier Jan Verleye.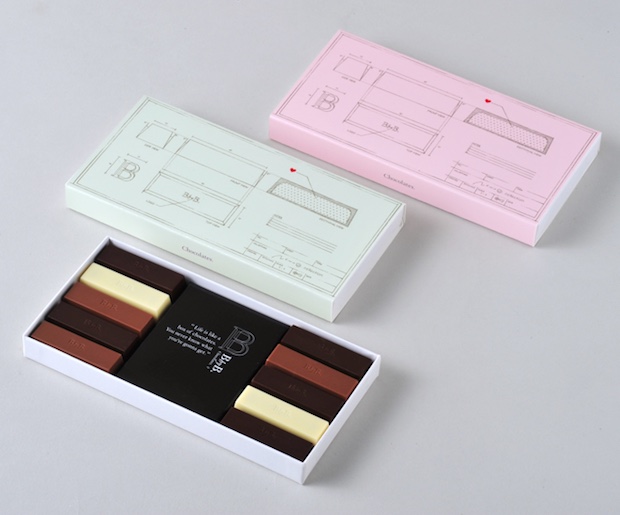 If you buy only one box of chocolate with snazzy packaging this year, make it this one, available exclusively in four colors from BbyB. Ginza and select department stores, from January 20th to February 14th.
Opening in late 2014 as BbyB.'s first outlet in Japan, the striking BbyB Ginza store was also created by nendo to the delight of design blogs worldwide.
Since February 14th is about giving to the guys in Japan, nendo's BbyB. chocolates feature a "masculine" look inspired by design plans.
On top of the four variations of boxes, the collections themselves are also curated by nendo and BbyB. into two types. Each set includes 10 differently flavored chocolates and retails for ¥2,700 ($22).