Sometimes I just wonder.
Japan is such a small country (geographically speaking, at least), so why do they even have to divide themselves into forty-seven prefectures and compete against each other? Recently I wrote a post on the result of recent survey which basically defined Japan's most and least attractive places. The battle of yuru-kyara mascots is another means through which we get to know the undiscovered parts of this string of islands. Maybe we are all subconsciously waiting for super heroes who could represent all that Japan has to offer and unite us all together.
And One Piece might just offer the gang of heroes to do it.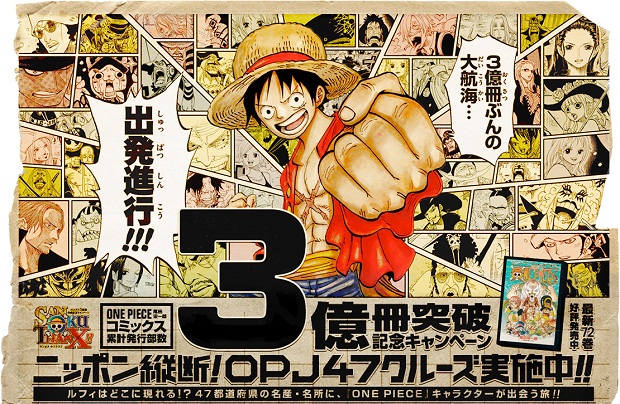 Now that the manga series has sold over 300 million copies, One Piece has no doubt proven its worth to be the ultimate representative of all prefectures in Japan. In the 3-Oku [300 million] campaign, forty-seven characters from One Piece appear on ads in local newspapers to represent each prefecture in collaboration with various local specialties, events and tourist destinations across the nation.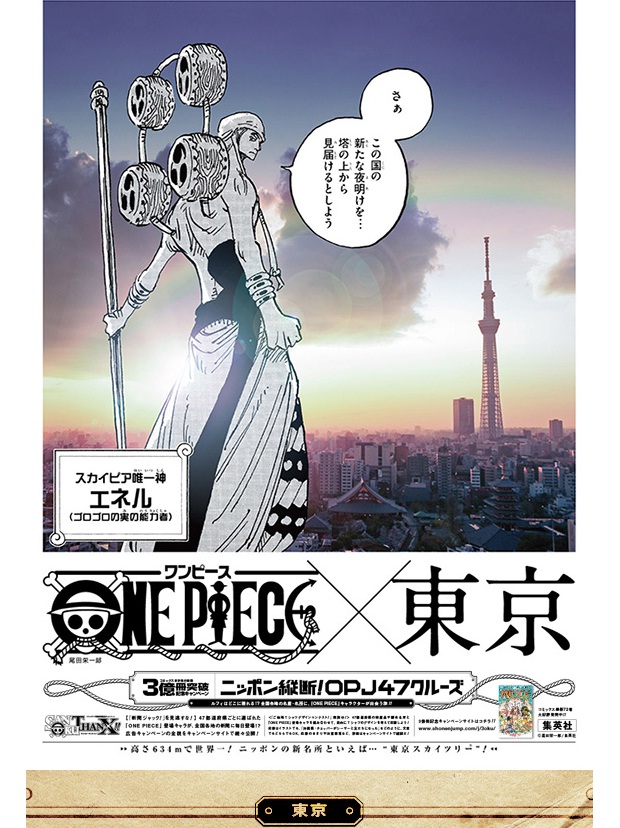 Although almost all the featured items in these ads can be seen on the cover of major guidebooks, it's a new approach that each prefecture is taking to show what they are proud of — whether it be the Tokyo Skytree (above), the hot springs of Gunma, Nebuta Festival of Aomori, Sasakamaboko (fish cake in the shape of a bamboo leaf) of Miyagi — or wara natto (natto wrapped in rice straw) for Ibaraki (below), recently announced the most unappealing prefecture in Japan.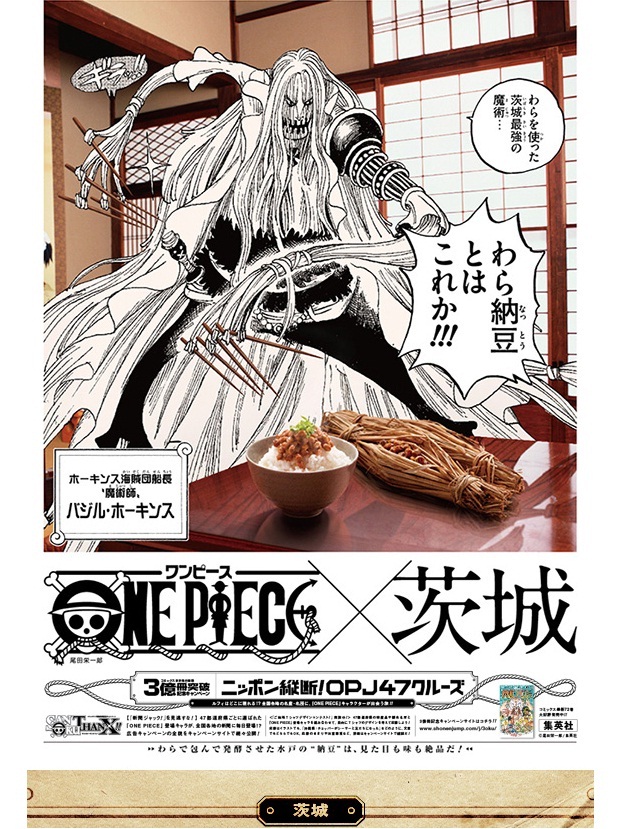 About two-thirds of the ads have been revealed on the website so far, and we have yet to see the remaining works.
In addition to newspaper ads, One Piece posters can be seen on the walls of seven major stations across the country (Sapporo, Sendai, Shibuya, Nagoya, Umeda, Hiroshima and Nishitetsu Fukuoka Tenjin) from November 4th to 26th at intervals of a week or so.
While I'm not the biggest fan of the manga, I do have to admit that One Piece is loved by so many that it has the power to surpass regionalism, which sometimes can get really ugly and messy.