Pokémon Go fans have been rallying in Yokohama since August 9th, bringing together participants for a mass hunt of virtual creatures on the augmented reality phone app that became a global phenomenon in 2016.
The Pokémon Go gatherings are part of the annual Pikachu Outbreak festival, which runs until August 15th featuring 1,500 Pikachus around the bayside area of Yokohama. Although a major highlight of this year's lineup is the mass Pokémon Go hunts, it's not only a virtual event. At Minato Mirai, physical Pikachus are also roaming the area dancing and hugging people. There is also a Pikachu blimp and Meowth hot air balloon, and August 14th will see Nihon-odori boulevard turn yellow with a massive parade of Pikachus.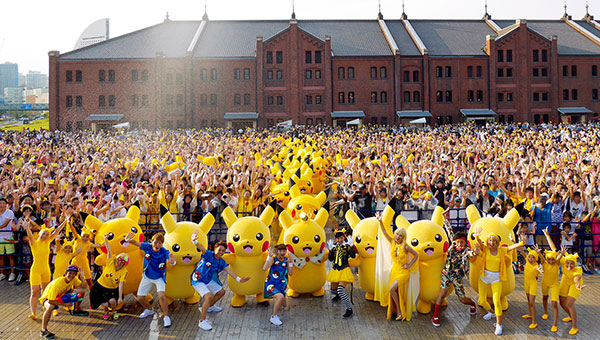 A similar event, the Pokemon Go Fest, was held in Chicago last month and was so popular it crashed the servers.
After visitors are done hunting for Pikachus, the recently opened Yokohama Triennale offers a host of art to enjoy until early November.
Art and Pikachu? Has there ever been a better reason for visiting Japan's second biggest city?