Given the ubiquitousness of AKB48 and its various members on advertising campaigns, music releases and television screens, you wouldn't think that Yasushi Akimoto needs a tax break. But that's what he got for his music empire, it seems.
It has recently emerged that funds put in place for the economic development of Okinawa Prefecture were partly used to finance a large-scale AKB48 event in Tomigusuku City.
¥28 million of tax payer money was given to pay for the ninth "general election" event, held in Okinawa on June 17th. Some of the money was also used to pay for a satellite event in the Okinawan capital of Naha.
The funds came from a multi-billion-yen grand from the central government for the 2017 fiscal year. Originally scheduled for Chura Sun Beach in Toyosaki Seaside Park, bad weather forced the event to move to Tomigusuku.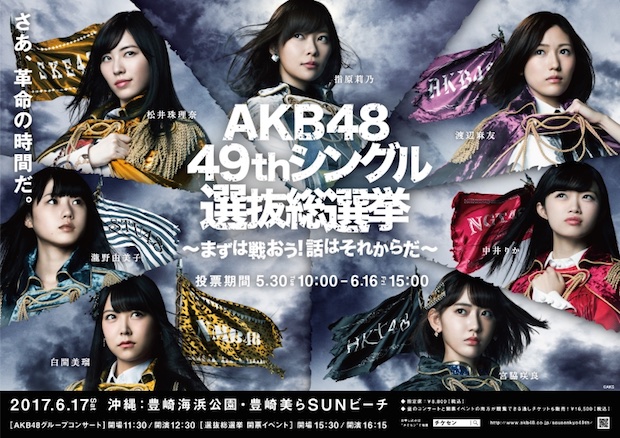 The justification for the subsidy of a major commercial event, whose total budget was ¥140 million, was that it would attract some 8,000 people to the region during the off-peak season.
The prefecture apparently requested for the money from the Cabinet Office to be used in this way.
AKB48's producer, Akimoto, is said to be close to the government and some critics will seize on this news as just the latest example of the cronyism allegations that have plagued Shinzo Abe's administration in recent months. Newly appointed foreign minister Taro Kono has also signaled disapproval of the use of tax money in this way.
Okinawa is the region in the far south of Japan. Originally a separate kingdom with its own distinct language and culture, it is today one of the poorest parts of the nation and hosts the majority of the US military presence in Japan.
The AKB48 "election" events are the climaxes of campaigns whereby fans are encouraged to purchase music products to obtain votes, which they use to "elect" their favorite members from 322 candidates in the affiliated idol groups. The top-placed members then appear in the group's next music release. For the June election, Rino Sashihara ranked first place for the third year in a row.