After dazzling Tokyo with his Running Christmas Tree last year, everyone's favorite gadget-creating foreigner is back with another inventive, gaudy device.
Joseph Tame's latest project is Sakuraman, a superhero-inspired mobile way to ensure you have cherry blossom all year round.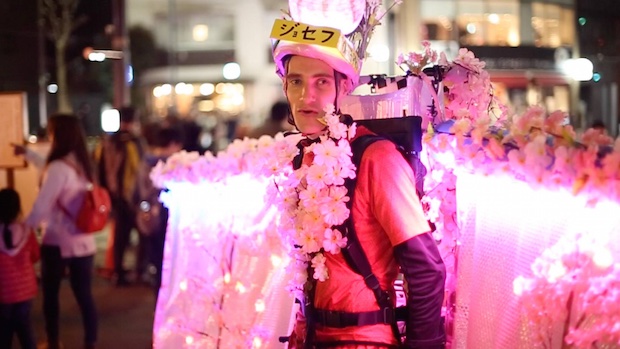 Sakuraman provides a much-needed service: on-demand hanami (cherry blossom viewing parties).
Yes, because cherry blossom is not just for spring. Let the slickly produced video below tell the rest.
Here's how Tame describes Sakuraman:
Japan's cherry blossom season is truly one of the wonders of the world; a sudden bursting forth of billions of flowers across the country, transforming any landscape it touches, and signalling the end of the long cold winter.

It's only natural that everyone would want to celebrate this transformation — and thus every year millions of people join friends and family under the trees for Cherry Blossom Viewing Parties ('hanami').

Over the past 10 years I've also enjoyed this phenomena, but it always struck me that it was far too short — the blossom would be going within a week.

There had to be a way to extend the joy. With today's modern technology, surely there could be a solution that would allow anyone anywhere to enjoy the cherry blossom at any time…

It was with this in mind that I created SAKURAMAN, and for the past few weeks, I've been testing him out on the streets of Tokyo. For the first time, this year people have been able to enjoy the cherry blossom for far longer than just one week at the end of March.

Following successful beta testing, I'm happy to announce the full launch of SAKURAMAN.
So presuming you are not put off by a pink-colored foreigner looming over you while you enjoy a beer and a bite to eat, you can order Sakuraman to come to your picnic and provide some springtime atmosphere whatever time of year it is.
For more on the "beta testing" process, there's a second video.
According to Tame, features of his wearable gadget include:
– Auto folding branches
– Retractable trees
– Night mode
– Retractable beer glasses
– Mobile app
– Starbucks compatible
– Built in party poppers
– Mobile video chat
– over 250 LEDs
– Detachable turf to sit on
– Touch audio system
– Mobile street lighting
– Compact and mobile
Okay, so Sakuraman may not exactly be the most serious wearable device to debut this year, but you've got to hand it to Tame: his imagination is impressive and he has the know-how and connections to convert his ideas into fully working products.
As we reported earlier in the year, Tame is part of the bustling maker culture scene in Tokyo and Sakuraman was actually conceived and built at Lowp, one of the latest coworking labs in the city.