Sega have created an interactive sandpit for kids. The Eederu Sunaba (translating literally as "Wow, appears! Sandbox") uses projectors and special non-sticky sand so that kids can have fun playing god by re-modeling the landscape in any way they fancy. As they make hills, lakes and rivers with the sand, the projection mapping changes in realtime to match the shifting topography.
Sega plans to install the system in arcade game centers in Japan from this autumn, reports Nikkei Technology, and also in playroom facilities at showrooms for cars and houses, to keep the kids occupied while the grown-ups sort out the important purchase.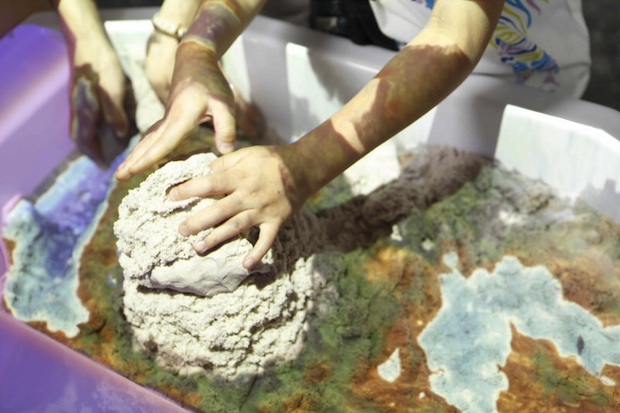 The system above the sandbox has a senor that measures distance so it can detect the changing height of the sound and generate imagery according to the shapes. If, say, it detects a hole it will create a river or lake image, complete with swimming fish. When the player piles some sand into a mound the projection will make a mountain.
Judging from the videos, the system seems very fast and intuitive, and the colors are great. There are lots of cool gimmicks like the shadows of aircraft flying over the scenery and the seasons change too. It seems to have no trouble interacting with multiple players at once.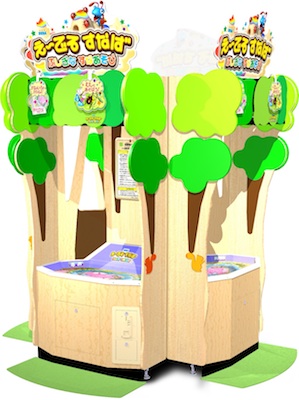 It also detects movement. It projects animal characters and when the player touches these, they respond as they move around the landscape. Current examples of the creatures are ladybugs and beetles, though surely the possibilities are nearly endless here. (Future ideas could be tie-ups with Disney, Sanrio or other character-driven franchises.)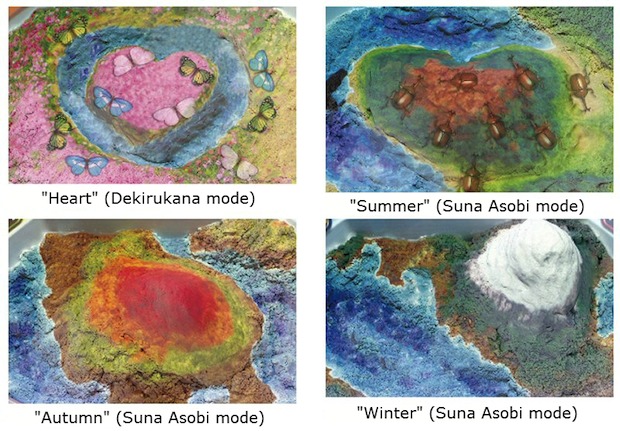 There are two modes. "Suna Asobi" (sand play) is for playing around freely in the box while "Dekirukana" (I can do it) mode allows players to draw pictures according to various themes, which are shown on a display for the kids to imitate.
It's not necessarily the first sand pit of its kind; there have been Kinect sandpits and augmented reality sandboxes before. However, this may well be the first fully commercial example of a system like this.