In a possibly unprecedented move, the management of a Japanese idol group is suing two former members, their parental guardians, and the fans they had relationships with for damages.
MovingFactory, the management and label behind the seven-girl idol group Aoyama Saint Hachamecha High School has named both the two members, the fans and the parents in the lawsuit, which was made public yesterday.
Formed in 2012, Aoyama Saint Hachamecha High School is not as famous as other idol groups like Perfume, AKB48 and Momoiro Clover Z, but still has a reasonable fan base. Its single "STARTING OVER", released in March, got to No.7 on the Oricon weekly singles chart.
In April this year it was suddenly announced that one of the members was leaving due to "health issues" and then in July another member was said to be taking a "break" from event appearances. New members were announced (the group now has eight members).
However, it was not until August that the reasons for the departure of Miho Yuuki (19) and Sena Miura (22) were made clear when a producer explained at an event that the two had been dating fans, which breached their contracts with MovingFactory. They were fired and the management even went so far as to reveal the names of the fans, which led to people tracking down their social media accounts and photos.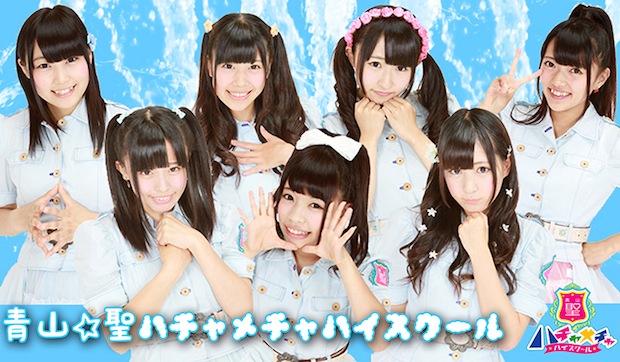 And now it has emerged a lawsuit has been filed for over ¥8.2 million (in excess of $75,000) for damages as a result of the girls' actions. The two members are named in the suit, as are the men who had relationships with the girls.
"The parental guardians signed contracts that said the members would not have relationships with fans and would not neglect their work," the management was quoted. "They have betrayed the members of the group and all their fans. We cannot forgive this."
It was not until yesterday that the lawsuit was confirmed, though rumors about it had been circulating since mid-August when MovingFactory explained why the two members had left. One of the men in question wrote a blog post claiming that as an ordinary citizen he was free to have a relationship with someone and that he had received notice of a lawsuit. The other man went so far as to make a public apology via a YouTube video (since taken down).
There is a recent similar case. Last month the management company for idol group N Zero announced a lawsuit against a member and a fan for having "private contact".
While there have been some scandals of this nature before, what usually happens is the "shamed" member is fired or punished. AKB48 member Minami Minegishi was demoted and even shaved her head in a bizarre act of public self-humiliation, while fellow member Rino Sashihara was exiled to a Kyushu "sister group" for a similar romantic episode, though her fan base has since exonerated her and turned her into one of the most popular members in the AKB sphere.
Some have criticized the management of idol groups for moral hypocrisy, demanding that female members be all pure and innocent while actually selling them as sex objects and profiting from the sexualization of young girls. In fact, as is alleged with former AKB48 member Tomomi Kasai, there are cases where relationships with the idols are condoned but only when it is with the (older) male management themselves.