While the latest Michael Bay Transformers movie is shooting up the box office around the world (though not yet in Japan), it's worth taking a look at a pretty spectacular local Japanese version. A veritable manga character Transformer!
Celebrating 80 years since the birth of Hiroshi Fujimoto, one of the manga-writing duo Fujiko Fujio, here is Bandai Tamashii's Chogokin Chogattai SF Robot Fujiko F Fujio Character Robot! We don't know how to begin describing this. It is made up of SIX Fujiko F Fujio (Hiroshi Fujimoto) characters that combine into one model. The "SF" in the name stands for both "sci-fi" and "sukoshi fushigi" (a bit mysterious), while "Chogattai" is a play on the name of the series (Chogokin) and means "super combo".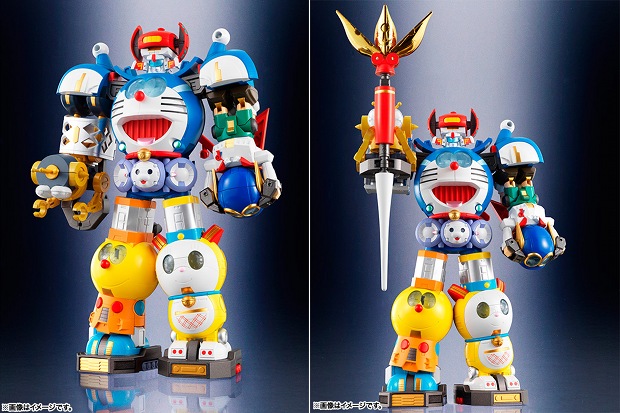 How's your anime and manga character knowledge? How many of the "parts" can you name?
Okay, here's a spoiler: The cast is made up Doraemon, Dorami (Doraemon's sister), Perman, Korosuke (from Kiteretsu Daihyakka), Chinpui, and Gonsuke (from 21emon).
If you wondering what that big thing the Chogattai is carrying, it's artist Fujimoto's iconic red beret hat and pen. Another accessory included is the popular time machine from the Doraemon series.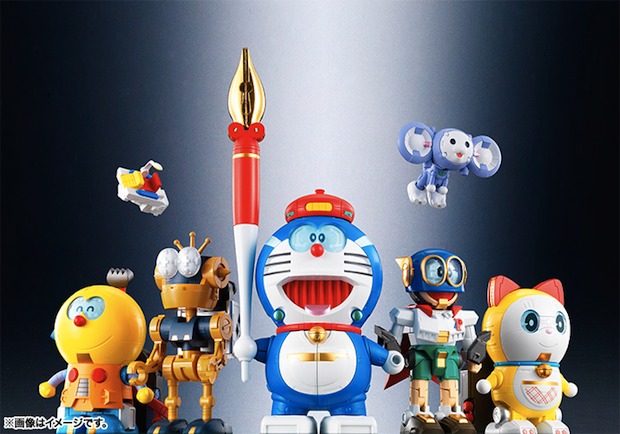 This rather strange but also rather awesome model/toy will get a release in late November.
Chogokin (literally "super alloy") is a series of die-cast metal toys and models that first appeared in the late 1970's. It's pretty geekily Japanese — after all, who names a series after a fake material?! It is undergoing something of a revival at the moment. It's the 40th anniversary of the model series owned by parent company Bandai, who now release the series through its Tamashii arm.
In recent years Chogokin has only been known for superior scale models of bullet trains, GX-64 Space Battleship Yamato 2199 and other modes of transport. However, of late we have seen an incredible Chogokin Hello Kitty there are more original releases to come, it seems. Look out for a Chogokin model based on the iconic Tower of the Sun by Taro Okamoto!