The website for UK fashion magazine i-D currently features Japanese idol group Babymetal. Online you can find an interview with the three young Japanese ladies, "bringing kawaii-metal to the world".
Part gothic Lolita, part heavy metal, Babymetal have just appeared at Sonicsphere along with the likes of Iron Maiden. The three-piece is SU-METAL (16), YUIMETAL (15) and MOAMETAL (15), who certainly know how to scream.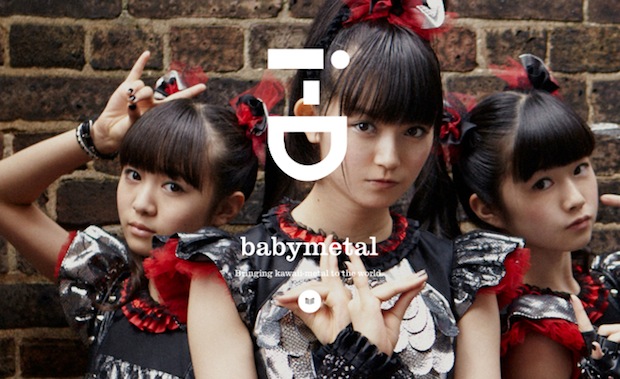 i-D claims that Babymetal's "eponymous debut album headed straight to the top of the charts worldwide, with a unique sound that merges Slayer with the very best dance mat anthems." Well, we're not sure they have their facts right (top of the charts worldwide?) but we like their enthusiasm. "It is awesome. With an incredible energy and a performance unlike anything you've seen before, a new legend is born."
Here are some extracts from the "giggle-filled interview ahead of the band's very first, very sold-out, London show."
How was Sonisphere?

SU-METAL: It was the first time that we performed on such a huge stage so before we went on we were very nervous. The audience cheered lots so it made us very happy.

I heard that you performed on the same stage as Iron Maiden, who you've said before is your favorite metal band, how was that?

SU-METAL: We actually stayed on to watch their performance and we were like "did we really just play the same stage as them?!" It was really unbelievable.

You met some legendary metal bands too!

SU-METAL: Yes! Backstage at Sonisphere we were wearing BABYMETAL tshirts that reference classic metal bands like Anthrax, Slayer and Megadeath, so people recognise those and come to talk to us. So we took photos with some of the artists which was really cool.

Tell us about the fox god…

SU-METAL: We don't really know what the fox god like because we've never met it, but we always have this message from this little master and we act accordingly. So we're doing this European tour because of the calling. We've managed to achieve so many things that we would never even have dreamed of, so we really feel that there is a fox god leading us.

How does metal music make you feel? Angry? Powerful?

SU-METAL: It is more to do with my relation to the music, but whenever I perform it's different to how I feel normally. I'm quite shy myself – I don't actually go out dancing and headbanging but when I become SU-METAL and perform, it's not embarrassing anymore. So when I perform, there are new discoveries in myself.

You're supporting Lady Gaga. Are you excited?

SU-METAL: We're all so excited! It still feels like a dream.

Her sound is very different to kawaii-metal, how do you think her fans will react?

SU-METAL: You're right — in terms of music we're completely different, but we ourselves didn't know about metal music before Babymetal. When we first heard it we thought 'what the hell is this?!' but found it very interesting and enjoyed it, so I think the fans of Lady Gaga who don't normally listen to metal music might feel the same way as us.

If you weren't in Babymetal, what do you think you'd be doing right now?

SU-METAL: Just going to school and studying like ordinary kids. I don't think we'd have the opportunity to go abroad or anything like that.
…

Which characters do you think you're most like?

MOAMETAL: My favorite animation is "Love Live" and there is a character called Honoka Kosaka and I think I'm most like her, but who I aspire to be like is Nausicaa from "Valley of the Wind".

YUIMETAL: I would like to be the Little Mermaid so I can live in the sea

SU-METAL: I would like to be the lead girl in Mama-Mia because she's such a positive thinker.
This is the trailer to the band's world tour, which kicked off in March in Tokyo.
Two years ago, in a country far, far away… It is a period of pop music. Rebel idols, striking from a hidden base in Japan, have won their first victory against the boring music empire. During the battle, the kitsune-sama fox god revealed his ultimate weapon, BABYMETAL, a kawaii-metal band with enough power to drive the metal resistance and restore musical freedom to the galaxy…
i-D magazine has been a stable for over 30 years now, famed for its wink-and-smile front covers and its coverage of the world's fashion elite.