For its latest concept bra to announce its new range, Triumph has come up with the Branomics Bra.
Yes, you've guessed it. This is a reference to Prime Minister Abe's "Abenomics", the fiscal policies aiming to raise inflation, consumption tax and the value of the Nikkei.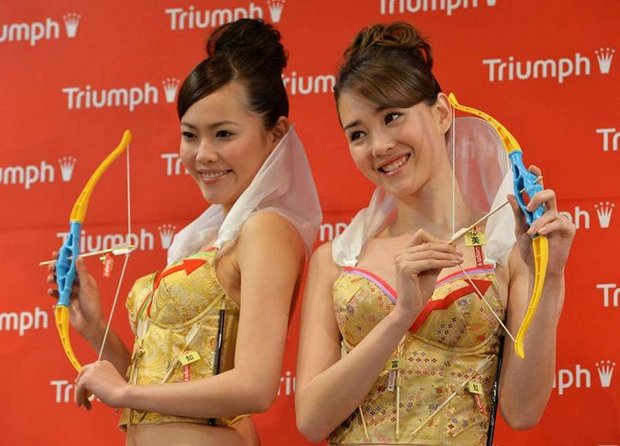 Check out the rising arrows, like the surge of the yen in recent months, and the other little in-jokes on economic growth and inflation. The bra is also meant to offer an increase in volume thanks to extra padding, which isn't a bad metaphor for government policy in general.
It is, of course, just a gimmick meant to promote Triumph International's regular line-up of bras, so don't expect to see it on a shop shelf any time soon.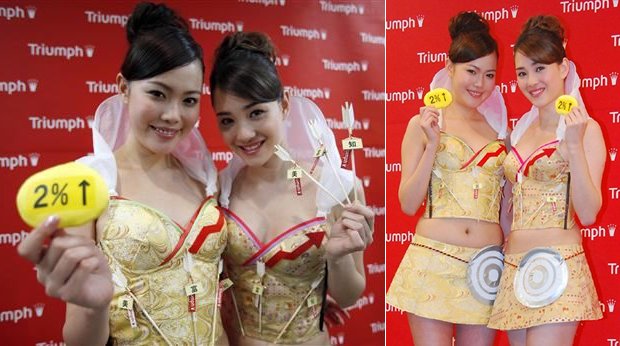 Every season Triumph — which is actually based in Switzerland — has a stunt like this in Japan in which it pays tribute to something topical or trending. This normally results in a bizarre-looking piece of underwear made with unusual materials that must surely be very uncomfortable to wear for any of the unfortunate models who has to show it off to the world press.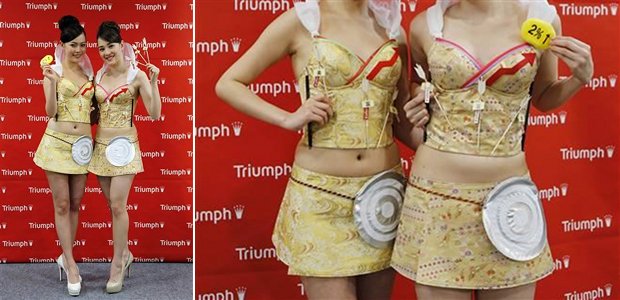 Past examples include a metal bra to promote a female revolution (the Women's Lib movement apparently did not penetrate Triumph's world), plus a Quit Smoking Bra, a solar-powered bra, husband-hunting bra (not as risque as it sounds), and even a "jury system" bra to celebrate the belated introduction of jury trials in Japan.