Japanese underwear brand Triumph regularly unveils a rather silly themed bra as a stunt advertise's its upcoming collection of clothing.
For their new range the promo item is the Girls' Ishin Bra, or "Girls' Revolution Bra". Before you start thinking that Japanese apparel has literally gone radical, please keep in mind that this is certainly very tongue-in-cheek.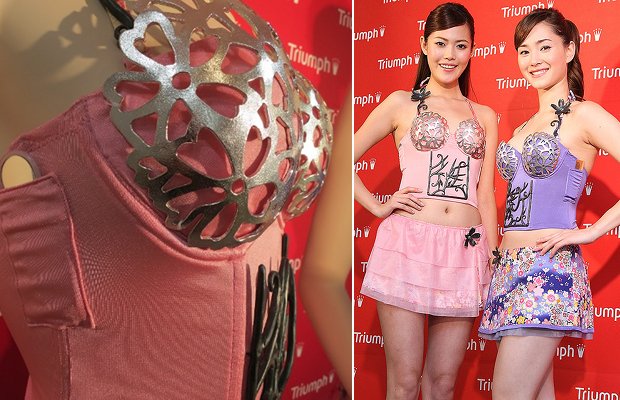 The revolution refers to girls "taking over from the guys" in the workplace, and that's a very worthy cause indeed. Women are still grossly under-represented in Japanese board rooms.
Triumph always chooses its themes and motifs based on recent trends — ecology, cool biz etc — and this year it was apparently inspired by how well women had done at the Olympics.
However, at the risk of sounding like a cynic, you could argue that having girls pose in bizarre bras in front of all the local media is rather counterproductive to the feminist agenda.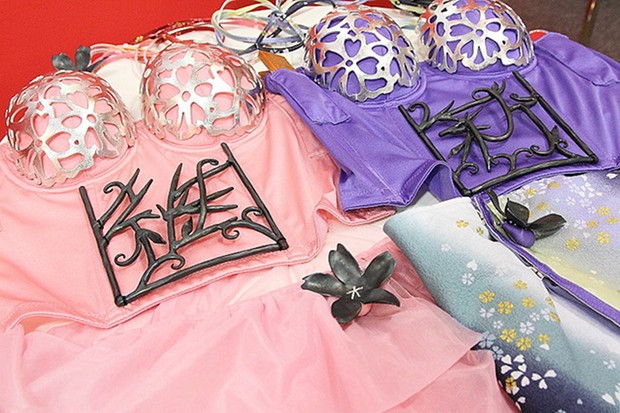 Created in collaboration with a blacksmith and a foundry artisan (both female), the metalwork latticing on the "cups" was made and then married with a metal cherry blossom leaf that hangs over the stomach area. The result is kind of half underwear, half armor.
There is also a pouch for a compact mirror.
And Wacky Japan theorists, be warned. This is just a marketing stunt and won't ever be on sale for real.