If cats and rabbits just don't do it for you any more — how about a hedgehog? Roppongi's latest animal cafe has these prickly characters available to be — well, not stroked exactly — but definitely carefully cradled. Harry Harinezumi Cafe takes its name from the Japanese word for hedgehog, harinezumi, which translates to "needle-mouse", and after a few minutes holding one, you might decide it's a more fitting name than ours.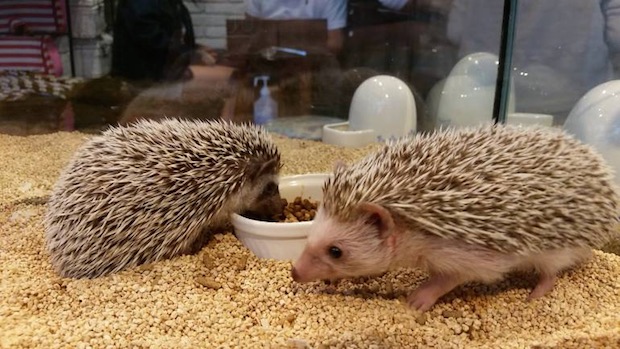 Photo by Lily Crossley-Baxter
Getting There
Animal cafes in Tokyo are as varied as they are ethically questionable — from cats to owls to lizards, you can pet them all. Perfect for a city where most apartments don't allow pets and let's be honest, they're just fun. The latest addition of these prickly, pink-bellied, pointy-nosed little critters might not spring to mind as top of your petting list, but they're popular pets. Harry's in Roppongi is a recently opened cafe and shop with over twenty hedgehogs and another floor of rabbits. The cafe is located down a quiet backstreet and can be easy to miss — some Australians we met had been wandering for hours trying to find it (dedication to hedgehogs) — but if you look for the rabbit signs, rather than hedgehogs, you'll be fine.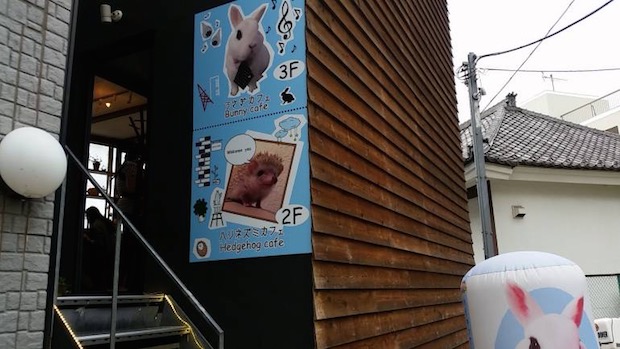 Photo by Lily Crossley-Baxter
Getting in
Featured as the "light news' section across the world in past weeks, the cafe has become a bit of a hot-spot and is pretty popular with tourists, cute couples and teenage girls alike. You can book the cafe slots in advance, and there are plenty each day (between 50 and 60) but they do seem to fill up about two days in advance. They are only bookable by the hour, and cost ¥2,000 per person on a weekday, and ¥2,600 on weekends. If this seems too pricey — there is another option. If you are prepared to queue, half-hour slots are available at half the price — but waits can be between an hour and two hours, so go prepared with snacks and a drink. This is what we did, and on a cloudy Monday we only waited 30 minutes — so you might be lucky (but watching those with reservations walk past smugly is definitely not helpful, so try not to look as they saunter past). Be prepared to be largely ignored by the staff if you have no reservation, there is a queue area outside, and once there you just wait — there's no list of names or anything, they will just come and get you when there's a space.
Hedgehogs!
So, when you finally get in—the fun begins (almost). You have to read the hedgehog guidelines about handling and care, and decide if you want to get hedgehog snacks (¥500, weird mealwormy things) and camera photos or phone ones. You are free to take all the pictures you like on your phone, but real cameras cost ¥500. Ok, NOW you can have fun! The room has about 12 tanks, for want of a better word, with a few hedgehogs in each. There's a mixture of "Salt and Pepper", "Pied", "Cinnamon" and "Albino" but we were less fussed about specific coloring and more: "Please just let me hold the cutest one!"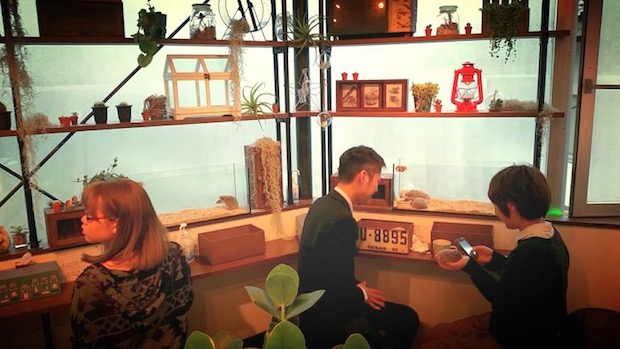 Photo by Lily Crossley-Baxter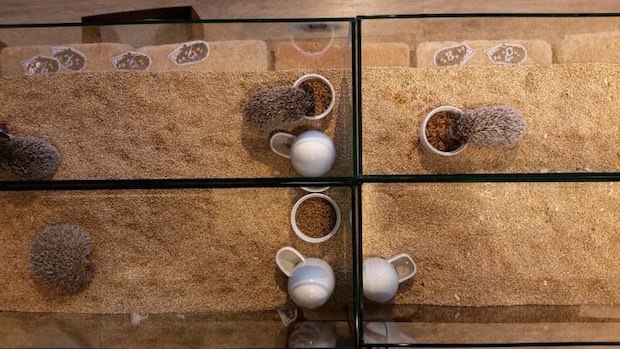 Photo by Lily Crossley-Baxter
You get a hedgehog box, and can choose a new friend/squirmy, scrappy needle-mouse. Only staff can take hedgehogs in and out, and when you hold them they have to stay over the box, so they can't fall. Basically, just be nice to them. They are a little jumpy at first, but lots of people's soon curled up and went to sleep—leading to adorable pictures all-round. You can change if you like, but not too many times. They are prickly (you laugh, but you'll find yourself announcing it in surprise too) and quite adventurous in a scrabbly way — or mine was, anyway — so you have to keep your wits about you. My friend, who shall hereby be known as the hedgehog-whisperer, had no trouble and soon had a curled-up-ball-of-cuteness in her hands. They didn't bite, and mine would lick my fingers which was really cute (once I got over the flashbacks to childhood hamster attacks).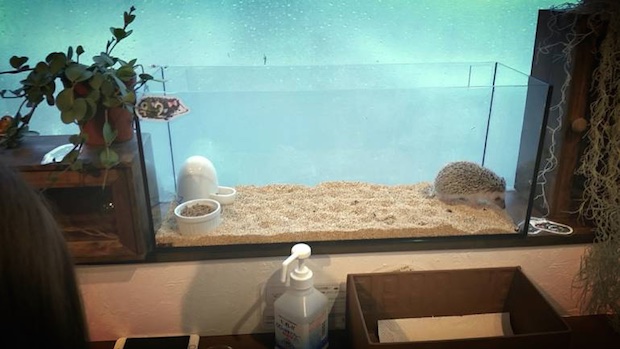 Photo by Lily Crossley-Baxter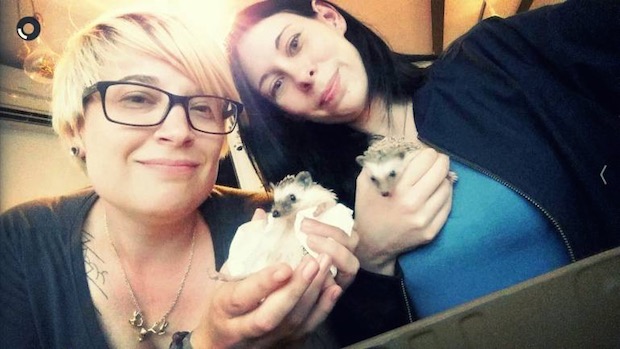 Photo by Lily Crossley-Baxter
The drinks are self-service and limited, but to be honest we forgot about them entirely. You are also free to bring your own food and drink into the cafe, but no alcohol. Disinfectant is readily available and a good idea, as you will get hedgehog-wee on you at some point no doubt. We didn't go for the snacks, so not sure what the effect was, but probably very cute.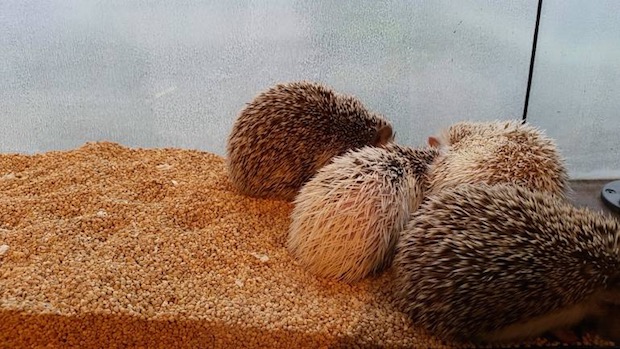 Photo by Lily Crossley-Baxter
The cafe is actually a hedgehog shop as they are popular pets in Tokyo, primarily with girls who can't have cats/dogs. You can choose one you like and get kitted out too. Prices are high though, this isn't a light decision (nor should it be), with small ones starting at ¥30,000. The upstairs also has rabbits, and there are geckos! These we did try — and they're really cute. Friends who have visited before preferred these to the hedgehogs, so you might surprise yourself.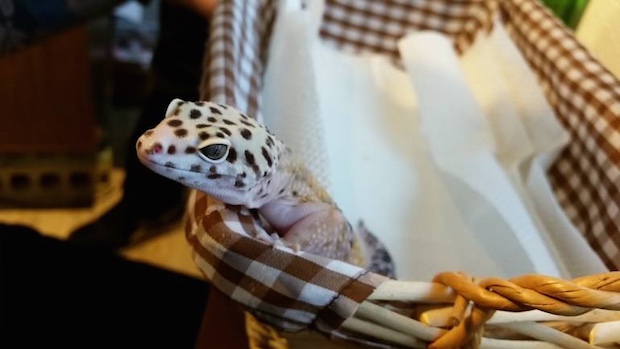 Photo by Lily Crossley-Baxter
So if you fancy a trip to hang out with the needle-mice, then head to Roppongi. You'll leave with possibly confused feelings about whether you actually like them, prickled hands and potentially a new found love for geckos, but definitely with a smile on your face.
Read more and see a map on Tokyo Cheapo